This post is also available in: العربية (Arabic) اردو (Urdu)
Prime Minister of Pakistan Imran Khan has made a huge announcement on Monday for Pakistanis. In a conversation with journalists, he said that Asia's largest oil and gas reserves may soon be discovered in Karachi's offshore waters.
"We are hopeful of finding large reserves of gas and oil in the sea near Karachi. The nation should pray for this and I will soon share good news regarding this. God willing the reserves will be so large that we will not need to import any oil," Imran Khan added. He also said that within three weeks, he will share the good news with the nation.
Earlier, the rumors about oil and gas reserves were circulating on social media but no concrete news was shared by any government official. The recent statement of Imran Khan about reservoirs comes as good news for Pakistanis.
People On Social Media Wants IK To Beware Of Uncle Sam!
American Geologists Heading Towards Pakistan…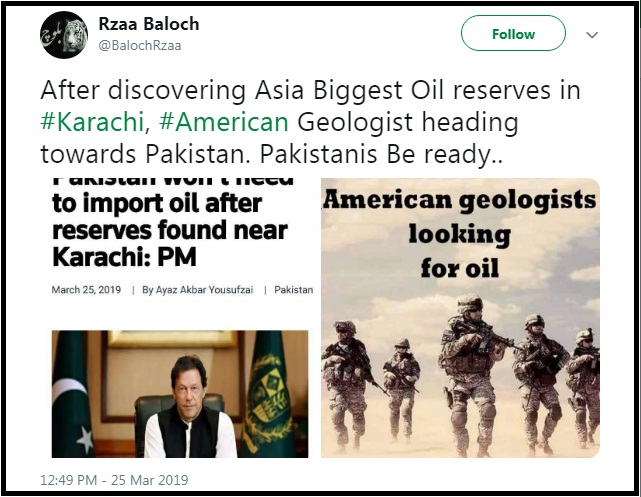 Some People Are Still Confused About The Good News!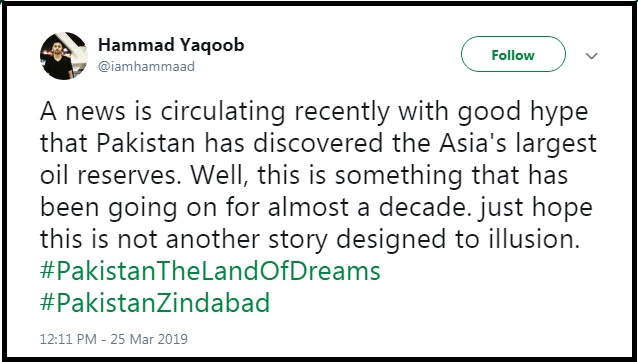 Indeed, It Is A Great News For Pakistan!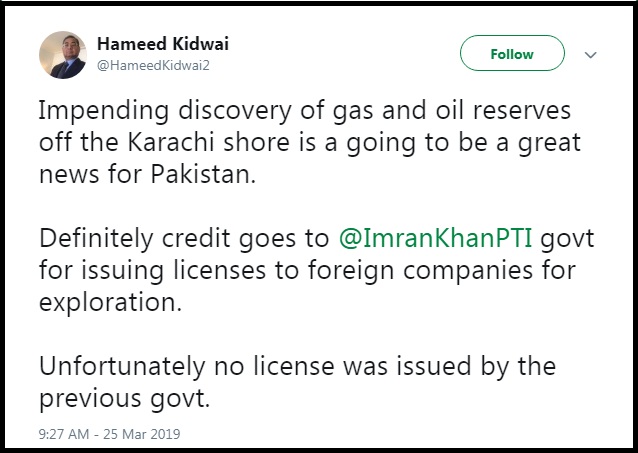 So, People Are Showing Their Concern Too!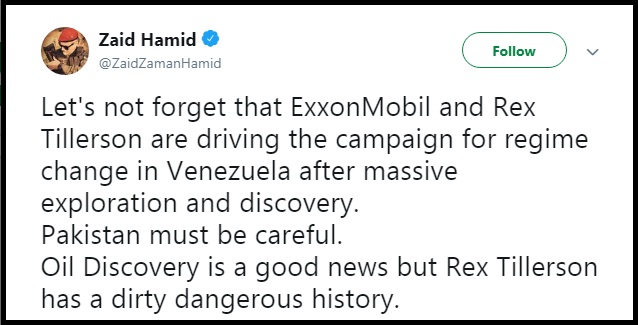 Isn't It Rude?

Gaon Basa Nahen Or Lutere Pehle He Aa Gae!!!

In August 2018, Arab News reported that if the oil deposits are discovered as expected, Pakistan will be among top the 10 oil-producing countries ahead of Kuwait in the sixth position. And now after seven months, Imran Khan shared the good news with Pakistanis.
Imran Khan Also Took A Jab At His Opponents In A Talk With Journalists
Criticizing the Chairman of Pakistan People's Party Bilawal Bhutto Zardari, Imran Khan said that he would not let anybody blackmail him nor would anybody be given any National Reconciliation Ordinance (NRO). While talking to the journalists, Imran Khan said that Bilawal Bhutto is afraid of the National Accountability Bureau (NAB) and that is why he is weeping.
"In the past, the Pakistan People's Party (PPP) was involved in money laundering of millions of rupees through fake accounts and the air tickets of Ayan Ali and Bilawal Bhutto were prepared through the same fake accounts", said Imran Khan. As Bilawal Bhutto Zardari has announced his train march from Karachi to Larkana, Imran Khan said that he is ready to provide containers to the opposition if they want to make hue and cry.
Prime Minister Said That His Government Won't Make Changes In Law For Someone!
In a talk with media, Imran Khan spoke about the medical treatment of PML-N's leader and ex-Prime Minister of Pakistan Nawaz Sharif.  "The government is providing him with all facilities and he can seek treatment wherever he wishes within the country. Despite being in power for 30 years, Nawaz could not build a hospital where he can be treated. Nawaz made 30 factories from one factory but could not make a hospital, there is no such law to send Nawaz abroad for medical treatment," he asserted.
Imran Khan Talked About Pakistan-United States Relations
Praising the foreign policy, Imran said that it is better than in the last 30 years. "America, which used to say 'do more', is now praising us. The results of our foreign policy are now showing", he added.