The tradition of giving 'zehar' to politicians in the jail is not something new for Pakistan. The foreign correspondent for the USA magazine, The Newyorker Mary Anne Weaver wrote in one of her essays that the former first female Prime Minister of Pakistan, Benazir Bhutto was given 'zehar' in jail. Recalling her bitter memories, Benazir said in an interview to Mary that,
"The day that a jail official told me that I was to be tried inside the jail, by a special military tribunal, and will be executed. I was stunned—I couldn't believe that they'd do it, though one side of me said that they would. A few hours later, someone left a bottle of poison inside my cell."
And now people are showing their concern for Nawaz Sharif as allegedly he was given food with 'zehar' in it!
Yesterday, a news channel reported that Punjab Institute Of Cardiology conducted the Thallium Scan Test of ex-Prime Minister Nawaz Sharif due to security concerns and pressure from certain quarters. According to the hospital administration, one of the arteries of premier has been narrowed down which is affecting the blood supply negatively. But for further tests, they were not allowed to do that. After that, Maryam Nawaz shared her concern for her father on Twitter.
Maryam Nawaz Said in Her Tweet That The Reports Of Her Father's Cardiac Arrest Is 'Not Entirely Untrue'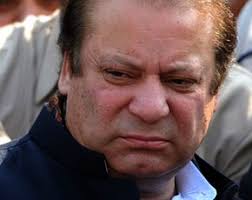 The reports leaked to media show his disease has progressed & is life-threatening. Official reports from PIC still awaited. Have been running pillar to post but to no avail. pic.twitter.com/fONwwVXFdM

— Maryam Nawaz Sharif (@MaryamNSharif) January 23, 2019
Soon after that, a YouTuber uploaded a video and claimed that the shattered health of Nawaz Sharif is all because of the food he has been given with 'zehar'. The former Prime Minister ate the homemade food only and the YouTuber claims that Maryam Nawaz is giving 'zehar' to her father for the sake of throne!
Here Is The Complete Link To The Video!
And Here Is How Social Media Users Reacted To This News!
Matlab Waqai?
PMLN and its social media team is fully trying to make some excuse to bring Nawaz Sharif out of jail. Khana ghar se aata hai or slow poison bhi mil raha hai. Matlab ke @MaryamNSharif apne waalid sahib ko maarna chahti hai

— Mehreen Khurram (@MehreenKhurram1) January 24, 2019
If This Is True, Who Is Doing That?
Nawaz Sharif meal was tested, Poison was find..
Nawaz Sharif ka khana tou ghar say ata hai..
Ab kon Nawaz Sharif Ko marna chahta hai? Kalsoom Nawaz Bibi Ko tou mar dia..
Ab iss ki bare….

— Erwin Schrodinger F (@lbneve) January 23, 2019
Nawaz Supporters Are Requesting Turkish president Tayyab Erdogan For Help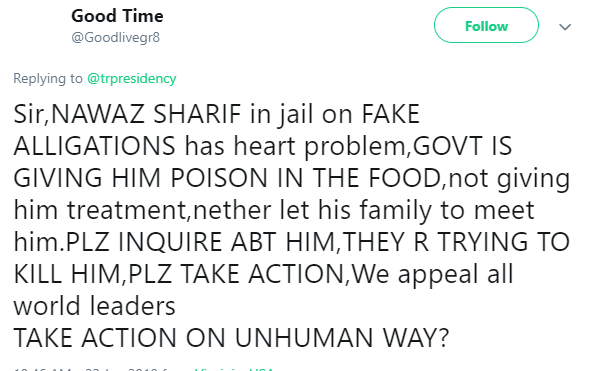 The claims of the YouTuber needs to be verified for the clear picture.
Do you want to add more to the story? Share your thoughts with us in the comments.