For Muslims, the importance of namaz doesn't require any introduction or endorsement. Namaz is one of the five pillars of faith of Islam and religious obligatory duty of a Muslim to perform namaz five times a day. Almighty Allah and His beloved Prophet Hazrat Muhammad (PBUH) has enlightened us with the importance of namaz in numerous Quranic verses and hadiths. It is stated in the Quran that,
And when you have completed the prayer, remember Allah standing, sitting, or [lying] on your sides. But when you become secure, re-establish [regular] prayer. Indeed, prayer has been decreed upon the believers a decree of specified times – Surah Nisa, verse 4
It is one of the tasks of Muslim parents to teach their children about namaz from an early age. Holy Prophet (PBUH) has said, "Ask your children to start offering prayers at the age of six years. If they don't listen to your repeated warnings, you may beat them to become regular at offering prayers when they are seven years old"" – Mustadrak al-wasail, v 1, p. 171
To encourage children for namaz, Baitussalam Welfare Trust has started a competition for young boys aged 10-15 years to pray Fajr salah at the mosque for 40 days. According to the details, 'I Am A Musalli' will be running in Karachi, Lahore, Islamabad, and Peshawar from 18th March to 29th April 2019. The winner of the competition will be awarded an imported bicycle after 40 days. For participation, one has to enroll first and then the volunteers will mark their attendance every day.
Here are the complete details!
نماز پڑھیں اور سائیکل جیتیں، کراچی میں مسجد کی نئی مہم

Posted by Naya Din on Friday, March 15, 2019
With a tagline 'Win A Cycle For 2 Cycles Of Fajar', the campaign is getting appreciation and criticism at the same time. Social media users think that it is a kind of bribe for a child while others are giving examples of Turkish schools where the same sort of campaigns have been run by the government and parents admire it.
Here Is How Social Media Users Reacted To 'I Am A Musalli' Campaign
Parents Think That This Competition Will Make Children Persistent Of Performing Namaz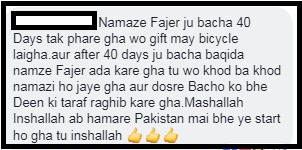 While Others Believe That Children Would Pray For The Sake Of A Getting Something In Return And Not For Its Sole Purpose And Pleasing The Almighty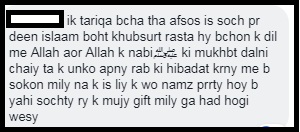 Namaz For The Sake Of Allah Or For The Bicycle?
Social Media Users Are Suggesting Other Rewards To The Organizing Committee

Almighty Allah and His Prophet (PBUH) has commanded the parents to make their children a better Muslim and to fulfill this responsibility. Parents are obligated to command their children after reaching the age of seven years. From the moment they become 'mumayyiz' – the age at which a child can distinguish between right and wrong, a man and a woman and what to eat and drink. It is the responsibility of the parents to teach their children namaz so that they pray with all the required conditions.
To make children habitual of namaz in this era of smartphones and other technological devices, 'I Am A Mussali' is a good initiative. But the parents are also raising a valid question about giving an incentive for offering namaz when it is a purely an Islamic duty of a Muslim.
What do you guys think of this competition? Is it a good initiative? Share your thoughts with us in the comments!