Have you ever wondered what would happen if politicians resorted to violence instead of mudslinging at each other? Well, Pakistan recently got a taste of that in a live TV show hosted by Munib Farooq on Geo News. A very heart-wrenching incident indeed, where a Pakistan Tehreek-i-Insaaf lawmaker slapped a PML-N Federal Minister during a talk show.
A political talk show with the usual discussion escalated quickly when Pakistan Muslim League's Daniyal Aziz was slapped on his face, on live TV by PTI's Naeem-ul-Haq.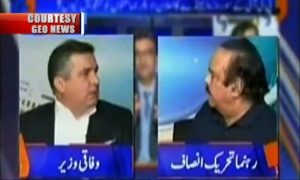 During the talk show, the debate heated, and the PML-N federal Minister Daniyal Aziz called PTI's Naeem-ul-Haq a 'chor' (thief), on which, Naeem-ul-Haq could not control his emotions and he resorted to physical violence, slapping Daniyal Aziz across his face, as millions of people watched from their home.
On the show, PPP's lawmaker Nafeesa Shah was also present as a guest, who walked away from the interview and the studio after Naeem-ul-Haq hit Daniyal Aziz, and then abused him as well. This is what Daniyal Aziz had to say about the incident: "It shows the frustration of PTI leaders and their handlers. Despite throwing their weight behind the Army and the judiciary, their public support dwindles daily, leading to internal rifts between the top leadership."
Never seen a bigger idiot than naeem ul haq, he actually slapped daniyal aziz in a live show, what a shame. pic.twitter.com/7YkunnvFRt

— Ahad Abbasi. (@ahadabbasii) May 22, 2018
It is usually banter in the political circles where leaders call each other thieves. Imran Khan, the PTI chairman, has been labeling every member of the PML-N as a thief for the past 5 years, and if this was the way things were to be handled, PTI members would not have been able to save face vs the governing party in power.
Politics aside, mudslinging on one end, but to physically abuse someone on live TV, in front of millions of voters, surely cannot go well for the PTI in the upcoming elections. This is not the first time that Naeem-ul-Haq has resorted to such a tactic on live TV. A few years ago, the PTI lawmaker lost his cool at another live tv show, where he threw a glass full of water on PPP's Jamil Soomro.
Pakistanis on the internet did not take to Naeem-ul-Haq's act kindly as well, making their voices heard. Most people were of the opinion that regardless of what had been said against him or his party, he should not have resorted to physical violence, that too, on live tv.
This how the internet reacted to the slap on Daniyal Aziz's face
This is so pathetic and unfortunate.#PTI leadership Need to learn more ..#Naeemulhaqslapped @Daniyal aziz

— Advocate AsifAffendi (@AsifAffendi) May 23, 2018
I am also pti supporter but naeem ul haq should be ashamed of himself.slapping is not the way to argue , just say sorry to daniyal Aziz

— Naveeda Nawaz (@NaveedaNawaz) May 23, 2018
Angry @naeemul_haque SLAPPED Daniyal Aziz. This is a pathetic, terrible and utterly shameful act.

— Farah Adeed (@Farah_adeed) May 23, 2018
Meanwhile, PTI's Naeemul Haq actually slapped PMLN's Daniyal Aziz during Geo's Aapas Ki Baat prog (to air tonight) after which DA cursed him out.

PTI testosterone levels supercharged.

— Hasan Zaidi (@hyzaidi) May 22, 2018
I don't know what's worse, Naeem ul Haq slapping Daniyal Aziz or Insafians celebrating it.

— Brashna Kasi (@Brashnaa) May 22, 2018