Every Pakistani remembers the rift that took place between Farooq Sattar and the old beacon of Muhajir hope, Altaf Hussain. When things got tough and the noose tightened around Altaf Hussain's neck, Farooq Sattar played the minus-1 formula, which worked only partially, as a separate MQM-London was created as well.
Ever since Altaf Hussain's ban in Pakistan, not all had been fine at MQM-P as well. Members kept leaving the party, while some new names joined in too. People called it the 'end of MQM', but somehow, the party, under the leadership of Chieftain Farooq Sattar, survived.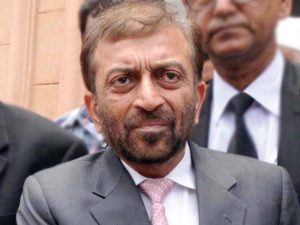 However, one of Farooq Sattar's oldest friend and colleague from the Raabita committee, has allegedly slapped him in front of a lot of workers and members, over the senate election tickets. Apparently, Farooq Sattar wanted to nominate one person that the rest of the MQM-P did not want near a senate ticket.
The member was Kamran Tessori. Sources on the TV claimed that during the Raabita committee meeting, Aamir Khan and Farooq Sattar used harsh words for each other, before Aamir Khan got angry and slapped Farooq Sattar. All the members then stepped in, but Farooq Sattar left the meeting and went straight home.
All of MQM-P met late night at a press conference where they talked to the media and said that 90% of MQM-P had decided to suspend Kamran Tessori's membership for 6 months, which means he would not become a senator from MQM-P.
To decide the future of our party, I request all Haqparast members of MQM Pakistan to attend an important general workers meeting today 4pm at KMC ground (PIB cricket stadium) pic.twitter.com/o9ackzMGNv

— Dr Farooq Sattar (@DFSMQM) February 6, 2018
Early morning, Farooq Sattar put out a video on his Facebook profile that called all MQM-P members and workers to gather at the KMC ground in PIB Colony as he was going to reveal the biggest secret in the last 15 months. He said he would now tell people what exactly was wrong and holding him back, that he couldn't speak the truth.
Farooq Sattar said now was the time that every MQM-P member and worker should know the truth and that is why all are requested to gather today. This new rift in MQM-P will either bring the party back to its old days of glory or hurt it so bad, that it might never recover.
As for the senate elections, MQM-P still has not nominated 6 members for the tickets. Hopefully, Farooq Sattar would shed more light on the issue today, along with bringing a breaking news that the TRP hungry media so desperately awaits.