Once, the strongest party in Karachi, has now lost all its footings. The Mahajir Qaumi Movement, the brainchild of disgraced former leader Altaf Hussain, has lost all its glory. After the MQM broke up into two factions, the MQM-London and MQM-Pakistan, the party has now further dissected in two halves, the MQM-PIB Colony and MQM-Bahadurabad.
The Rabita Committee, which was the blood and fuel of the MQM, somewhat betrayed new party leader and convener Farooq Sattar. The betrayal was not taken lightly by Farooq Bhai, as he ended up dissolving the whole Rabita Committee with the powers vested in him by the MQM constitution.
It all started over the senate election tickets. Farooq Sattar had decided to award the ticket to multi-billionaire Mahajir activist, Kamran Tessori. At this, the Rabita Committee united and reminded Farooq Sattar that they too held authority over the tickets, and the leader should have taken them in confidence.
One thing led to another, and the MQM was soon divided into two factions, with all the stalwarts and veterans remaining in the Rabita Committee, using Bahadurabad as their center. Farooq Sattar was quick to remind them that he had always stood up against injustice in the party and what the committee was now doing was evident, that a foreign hand was playing the committee.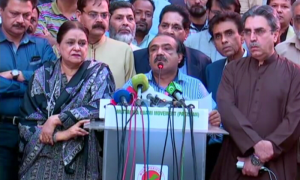 Yesterday, the Committee decided to suspect Farooq Sattar from his role as convener of the party, followed by a lot of tears from all the members. However, Farooq Sattar with his newfound role was never going to back down. He, along with his cortege, late night, set up a show at the PIB Ground where he announced that he was dissolving the Rabita Committee and new polls (inter-party) will be held on February 17.
"The issue was not about the nomination of one person — they [Bahadurabad group] actually wanted to nominate their favourites," said Farooq Sattar. "They are cloaking their selfish interests in their objection to [Tessor's] nomination for Senate seats. If I had made all the mistakes they claim I have made, why did they wait for the Senate election to act on them?" he  questioned.

"If these people were sincere about finding a solution to the crisis, they wouldn't have signed a declaration for my ouster on February 7 — at the same time they were sending delegations to negotiate with me," he informed all the MQM loyalists, that somebody from outside is making them take such steps.
Political analysts suggest that the 'hand' everybody is talking about is that of Ex-President and COAS, General Parvez Musharraf, who has always shown his love for MQM. It is being said that Musharraf might return to Pakistan soon and head the MQM, that is if does not breakdown into more factions.