One of the worst plagues to hit our society, pedophilia and child abuse, has been in the headlines for quite a while now. Our society is loath to this social vice but our leaders do everything to protect real culprits.
After little angel Zainab's rape and murder, the mutual conscience of our society was shaken and distorted. What we say, was not something we would want our loved ones to go through. A 7-year-old girl, discovered from a pile of trash, after she was defiled by a monster.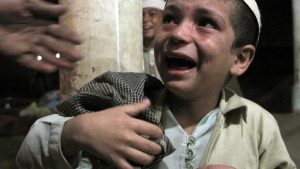 This incident has also put light on the biggest child porn scandal of Pakistan, where more than 200 children were being used in a child porn ring by locals of Kasur, the same city where Zainab was forced to meet her fate.
Slain Punjab Governor Salman Taseer's daughter Sanam Taseer took to social media to make us realize the culprits of Zainab's murder were the people who had protected perpetrators of the Kasur child porn ring. As per Sanam, PML-N MPA from Kasur, Malik Ahmed Saeed, had given shelter and laissez-faire to the people responsible for forcing children to pose while they filmed adult content.
Furthermore, PML-N's Law Minister Rana Sanaullah has also been claiming that the Kasur child porn ring never happened, but it was a land dispute that was misunderstood. Rana sahab needs to realize one thing – the people of this country might be slow, but they aren't stupid. The Kasur child porn scandal can never be denounced — not until our Zainabs our safe anymore.
As Sanam said, most people, leaders and followers, are now crying crocodile tears over Zainab's death, but they hold the same manifesto as Malik Ahmed Saeed — they see him in party conventions, they try to be close to him, not realizing that it is people like him that protect the rapists and abusers, in return for monetary gains.
Little Zainab might have gone through a painful and horrible death, but one thing her sacrifice shows is that this society, if it wants, can wake up, and when it wakes up, no evil will be safe from its grip. #JusticeForZainab