Domestic violence in Pakistan is a topic that has been discussed far too long, with little or not progress in its detachment. Women, suppressed and forced into submission by their male counterparts, have suffered too long, without little or no acknowledgement for it.
However, finally, women have started speaking against the bias that exists in their life. The popular hashtag #MeToo has opened many stories about how women have been harassed by men in different spheres of life. Although many have gotten a voice through social media, others who are aloof to concept, still suffer in misery, alone at times.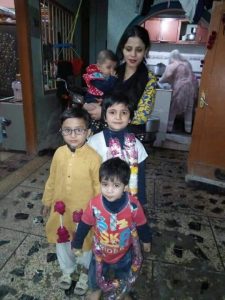 A tragic incident has come to light from Hyderabad, Sindh, where a mother four young kids was brutally beaten to death by her husband and brother-in-law. The woman's name was Saba and as per reports, she was constantly subjected to harsh beatings and other forms of domestic violence.
A Facebook post that exposed the incident read: "A mother of 4 kids beaten to death by her husband and brother in law in Hyderabad, Sindh. Her brother says it was very casual that they used to beat her repeatedly before. She came to his father's house. Then they request her to go back because "Log kia kahen gy" and beti ka ghr ujar jai ga. I'm absolutely speechless for this mindset. I think not only the barbaric husband is responsible for her murder but also her brothers who have sent her back home even after knowing that she is put to torture repeatedly.
Thousands of women are being the victim of domestic violence on daily basis. Just because of the fact that log kia kahen gy, they never spoke up. The ones who raised their voices are shut up by their parents as beti seh ly per apna ghr ujarne na day. What a weird society have we become where decisions are made to please LOG not our own-selves. A humble request to authorities to provide justice to the family! Please share this with everyone and help get the dogs punished. #JusticeForSaba"
Every single time Saba returned to her mother's house, she was forced to go back, in the context of 'what would society say?' – but returning to the place Saba considered home, proved to be her biggest mistake every time. There is only so much the human body can take, and one mistake can lead to the end of someone's life.
It is now up to the authorities to take immediate action against Saba's husband and brother-in-law and provide justice to the victim and her little children.