Ever since 9/11, Pakistan had suffered a wave of magnanimous terrorism, where the people of the country were not safe to travel, worship, roam their streets or live in their rural areas. Suicide bombings, armed attacks, what not, Pakistan bore everything, because the actions of one man.
His name? Osama Bin Laden. On September 11, 2001, 2996 people were killed in a dual attack on the World Trade Center in New York. Soon after the attack, the responsibility was almost forced upon the Al-Qaeda, headed by Osama Bin Laden, the world's most wanted man, the most notorious terrorist.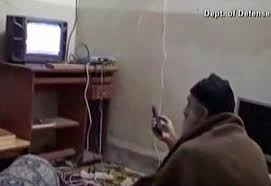 For a decade, the USA bombarded Afghanistan and the Norther regions of Pakistan, trying to take revenge for Al-Qaeda's actions. In retaliation, hundreds of thousands of lives were lost. However. one day, the USA finally took their revenge from Osama Bin Laden. It was May 2, 2011, when Operation Geronimo took place in Abbottabad, Pakistan. US Navy Seals team stormed a local compound in the wee hours of night, raided the house, and killed Osama.
The fateful day, however, is remembered by a single tweet that was made by a man named Sohail Athar, who tweeted this at exactly 12:58 Am on May 2, 2011: "Helicopter hovering above Abbottabad at 1AM (is a rare event)."
Helicopter hovering above Abbottabad at 1AM (is a rare event).

— Sohaib Athar (@ReallyVirtual) May 1, 2011
Ever since the tweet resurfaced, people are calling it one of the most 'historic' tweets ever. This is how they reacted to it:
@ReallyVirtual This tweet was capable of aborting a highly classified and sensitive @CIA mission.

— Satya 🃏 (@iamDeveloper) May 2, 2016
Just learned about your tweet from a documentary and decided to comeback and relive a historical moment I had missed. @ReallyVirtual

— Ndung'u Ndirangu (@NdunguNdirangu) December 13, 2016
One of the most famous tweets ever..
If you want to call tweets famous, lol

— #Hashtag (@godofcourse007) October 26, 2017
HAHAHA definitely one of greatest tweets in twitter history.

— Kwame Brown (@Atherton135) February 17, 2017
Damn. If only Osama was tech savvy he could've saved himself(i guess?). mindblown🤯

— Megha (@supmegha) November 20, 2017
@ReallyVirtual little did you know you were tweeting a major event in history
LOL

— Crystal Draws (@CrystalDraws) January 22, 2016
well shit… who would have thought one tweet would change everything

— tony steel (@lukic_antwan) March 13, 2017
Indeed it was a rare event, change the history of the world,'again' in less than ten year.

— Fawad Khan (@Fawadnk) May 2, 2017
@ReallyVirtual LOL wonder what your reaction was when you learned they were killing Osama, or that Osama was even that close to you

— purpandorange (@purpandorange) October 5, 2015
@ReallyVirtual ^^ he Was up late one night nd inadvertently live-tweeted the raid on Osama Bin Laden's compound in Pak !!!#HBdayTwitter

— कोमल 🙂 🇮🇳 (@Komal_Indian) March 21, 2015