It is a pity how Islam has been playing in the hands of a few clerics who have actually brought defamation and insult to the best of all human faiths. This has resulted in shaping up an image of the Islamic doctrine that is quite contrary to its injunctions and teachings, on a global level.
The general negative perception of our religion can be credited with our own actions and management of our routine affairs. Even the best divulging factors from our quarters are bound to cast doubts and suspicions of invariable degrees.
The Rural Sindh: Place Of Compelled Conversions?
Whereas the international media, as well as a sizeable local media, are pitched in favor of this notion, the truth lies just 180 degrees to it. There is no denial of the fact that there might have occurred some isolated incidents of such religious transitions. Any sage person would realize that such dispersed incidents cannot be labeled as an intentional piece of work carried out indiscreetly and nationwide. All in all, the rural Sindh areas are considered more prone to religious makeover than any other locale in Pakistan. There might be a morsel of truth behind all the recent hullabaloo, yet truth does need to be filtered from such collective indecent hype.
Sindh Women March Against Forced Conversions: A Conspiracy To Malign Truth?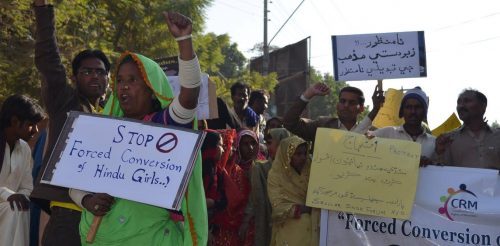 Mian Mithoo, a famous religious personality in Sindh, was approached by a Hindu boy himself! 
The shared clip over the social media narrates a story that completely negates the western views and the perception of our local liberals. The young lad is shown to arrive at Mian Mithoo's residence in order to embrace Islam at the cleric's hands, at his own absolutely free will.
The video further reveals a fact seldom realized: Mian Mithoo repeatedly confirms from the boy to be under any sort of physical, psychological or financial pressure from any personnel. Now, this happens quite infrequently in other conversion sessions if ever conducted in our society. These examples lie in instances whereby Muslims are being converted to Hindus or Christians elsewhere in the country.
Here is what actually occurred:
Mian Mithoo Gets The Boy Along Conversion To Islam: Gimmick Or Greatness?
This Conversion To New Faith Looks Credible, But How Much Reliable?
Let's not turn a deaf ear to what the leftist groups are remarking or even mumbling and gossiping. These people present a totally anti-view of what has gone viral worldwide. They opine that the 5-minute clip doesn't actually reveal the underlying "truth". And, they claim to have unearthed the facts behind.
That of Mian Mithoo's intention of pulling himself out clean from the dirty waters of his highly scandalized personality. Quite shrewdly, he succeeds in faking up this entire incident. In front of a cellular camera with the young boy and presumably his "disgruntled family", he comes up with a perfect "clean chit".
Yet, whatever lies behind the incident we aren't expected to cook up things that have already come to beyond their boiling points.