This post is also available in: العربية (Arabic) اردو (Urdu)
What happens when you shut down the whole country just to satisfy your ego, hurting business, routines, economy and every single Pakistani in the process? The answer is, you pay for it, only partially, but you do.
That is exactly what has happened after Tehreek-e-Labaik decided to protest against the Asia Bibi Case decision by the Supreme Court of Pakistan, bringing the country to a complete halt. With schools, colleges, Universities, and offices closed, Pakistanis seemed to have a little more time than usual to take their anger out on the internet.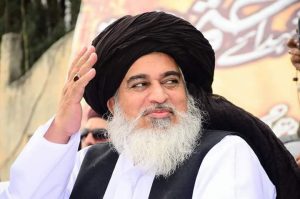 All this, just after Khadim Rizvi's official Twitter account shocked everybody with tweets straight from the Oxford dictionary. The complex use of words, theories, and international relations terms have sent the people in limbo, where they are extremely sure that somebody from a top university of Pakistan is handling his Twitter account.
"Had Asia been punished under 295 C, the Islamophobes and neo-imperialists would have been silenced once for all. Unfortunately, the government has not shown courage to displease secular-capitalist nexus." – Khadim Rizvi, on Twitter.
Well, let us see, how Pakistanis are taking their anger of the countrywide shutdown out on Twitter, by making glorious memes of Khadim Rizvi and others from his religious-politico party.
Some created hip-hop videos that perfectly fit the situation
— Zia v3.3 (@stalkhold) November 2, 2018
Khadim Rizvi as Thanos – looking to work for the betterment of the environment
Man with a vision pic.twitter.com/Yjusf8KZUp

— وہ کیوں جی؟ (@RTAluvzAfridi) November 1, 2018
Others created memes to present their idea of the ease Khadim Rizvi has been given…
Hmmm pic.twitter.com/OwQNM9yZOG

— Zameer Maan (@ZameerMaan) November 1, 2018
Everybody wants the Hoors… but what about what the Hoors want?
Hoors of jannat deserve better than this. pic.twitter.com/iFNJ2enjeJ

— SIR .. (@SirJohnRoe) November 1, 2018
Not the Jon Snow Pakistan needed, but the Jon Snow Pakistan deserves
You vs the guy she tells you not to worry about. pic.twitter.com/s0j3qVPBIL

— SIR .. (@SirJohnRoe) November 1, 2018
Remember that swordsman from the protest? He's now fighting Yoshimitsu – feel old yet?
Since some universities are open, Pakistanis have found a way to bypass the protests altogether 
The only way to go to university #Protest pic.twitter.com/bxDhGd8edX

— Pehal (@pehalzee) November 1, 2018
#Protest everywhere ? pic.twitter.com/51GdlhJJnN

— Abid Ali Mirani (@AbidAliMiranii) November 1, 2018
When you find a perfectly fine vehicle during the protests – you know what to do!
Ok I'm sorry pic.twitter.com/LxiAKibRgu

— Shazmeme (@sadraptorshazo) November 1, 2018
Surely, these tough times remind you of some special people
Blast from the past pic.twitter.com/WLIkBroiPl

— Mubashir Zaidi (@Xadeejournalist) November 1, 2018
After the success of Saudis in Audis, we present you Saudis in Embassies
Breaking News! Saudi's have invited Khadim Hussain Rizvi to their Turkish Counsulate for negotiations. @PTIofficial @fawadchaudhry @ImranKhanPTI

— Frieha Altaf (@FriehaAltaf) November 1, 2018
And finally, even though Pakistan does not celebrate Halloween, Khadim Rizvi was always going to make things SCARY!
And all the credit of Halloween holidays goes to him, ??? #HappyHalloween #WeStandWithKhan #KHIAlerts pic.twitter.com/UfsLVnPIVA

— Tauheed Bashir (@Itauheedbashir) November 1, 2018
By now, the memes might have given you the crux of how Pakistan has reacted to the protests. Look at it this way, when somebody disrupts our peace of mind and routine, the least we can do is vent out through satire or hilarity – which is obviously still better than breaking car windows with sticks and stones.