The most debated topic of Pakistan right now, harassment, followed by defamation, has been ringing in the ears of the country's population ever since the mass exposes on Twitter, including that of Patari's CEO and of course, the biggest star of the country, Ali Zafar.
Defamation has different meanings and can be interpreted differently as well. However, as for one man, tweets from his ex-wife regarding how he was a selfish husband, who abused and used her, gave her up after an accident, is the epitome of defamation. Yes, we're talking about Khurram Shahzad's and Muniba Mazari, the Iron Lady of Pakistan.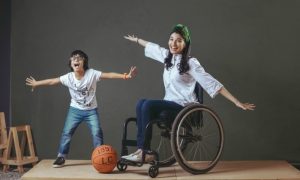 Only a couple of days back, Muniba Mazari, a famed model, actress, activist, philanthropist and motivational speaker went viral for finally leaving her wheelchair behind, as she could now stand on her own legs. Days later, her happiness was once again cut short, this time by her husband. Khurram Shahzad, a PAF fighter pilot, has finally sued his ex-wife over defamation.
Previously, Shahzad had done the same, but due to a technical error in his lawsuit, he had to take it back. Furthermore, previously Shahzad had also included legal damages to his reputation worth Rs. 1 crore, but the new lawsuit does not have any extra payment except paying the legal fees of Shahzad's counsel.
Shahzad's demand was still the same before issuing the legal notice to Muniba Mazari, to delete her tweets and issue an apology. But Muniba refused to do so and now would be handling the matter inside the court of law. Shahzad's main complaint against her is that Mazari has on several occasions made statements on TV and other media mediums, which defamed and ridiculed him as a husband.
As per Khurram Shahzad, he was a loving and a very understanding husband, but after the accident which the couple suffered from Quetta to Rahim Yar Khan, he said that his wife was not into it anymore. Muniba had once said that the accident occurred due to Shahzad's negligence while driving, as he fell asleep on the steering wheel while driving.
However, the petition that has been served legally by Muniba's ex-husband states that the accident occurred due to a donkey cart suddenly appearing from the right side of the road. On one TV show, Mazari even went to the extent saying that her husband, in a bid to save himself, had jumped from the car to save himself, while she was left to suffer.