This post is also available in: العربية (Arabic) اردو (Urdu)
We all are aware of Ex-Prime Minister Mian Nawaz Sharif's deteriorating health as he stays in jail. There have been a lot of concerns regarding this as he has refused to be shifted to a hospital even after the current Prime Minister Imran Khan made sure that Punjab's Chief Minister Usman Buzdar makes every medical facility available for Mian Nawaz Sharif. But MNS still hasn't availed that opportunity and now according to Maryam Nawaz Sharif's tweet, he is suffering from stage 3 kidney disease which is very worrying.
Maryam Nawaz tweeted her concerns.
Maryam Nawaz said that Mian Nawaz Sharif is going through a stage 3 kidney disease and is in real pain. His urea and creatinine levels must be checked and the doctor who was sent for his examination was sent back after he was made to wait for 2 hours outside the jail. The concerns regarding his health are real and immediate steps should be taken. Mian Nawaz Sharif should also avail the chance to be shifted to a medical facility rather than being in the jail.
Here's her tweet
MNS had pain in the flanks. His kidney disease is at stage 3 & the dr suspects the pain to be of renal origin. His Urea & Creatinine levels MUST be checked. His doctor who I sent to examine MNS was made to wait 2 hrs outside jail, was not allowed in & sent back.

— Maryam Nawaz Sharif (@MaryamNSharif) March 22, 2019
People suggested that he should go to the hospital.
Well, as there is no one stopping him and Prime minister Imran Khan has already offered him every medical facility in Punjab for his use till his health gets better, he really should avail this chance. Seeing how bad is health is and it will keep worsening if he doesn't get shifted to a hospital. Mian sb need to stop being stubborn and do what's right.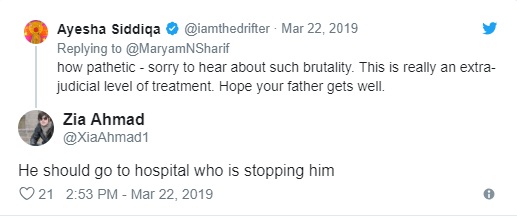 Some people were not really nice about it..
Well, this woman called Maryam Nawaz a drama queen and said that she should take Mian Nawaz Sharif to the hospital. And another point was raised that MNS, himself is refusing to go to the hospital which is him willfully letting his condition get worse. Isn't hurting your own self, haram? Maybe it is Mian saab.
The tests were done.
Maryam tweeted that the doctor's concerns were real and the tests reveal that Mian saab actually needs medical assistance.
Just got back after meeting MNS. His doctor's concern was not unfounded. The blood tests done yesterday reveal a further raise in his CREATININE levels which means his kidney function has deteriorated. His kidney disease is already at stage 3. The pain in the flanks persists. pic.twitter.com/5kdSLKxjTG

— Maryam Nawaz Sharif (@MaryamNSharif) March 23, 2019
But is there a twist in the tale?
Is it something not serious and common in diabetic people? Not stage 3 renal failure? Well, who knows the truth.
It's not stage-3 renal-failure. Could be just a slight deterioration of renal function and is a common finding in long standing diabetics and hypertensives. Don't try to make a mountain of a mole-hill.?

— B. Radhakrishna (@Radhkrishna) March 23, 2019
Whatever the truth is, we hope that Mian Nawaz Sharif takes medical treatment in a hospital if they are not available in the jail facilities. And that he recovers soon. May God bless him with good health.