As marriage is seen as a vital part of someone's life, in some cases it can be turned into a horrifying event too. In this era, where we talk about different problems faced by the citizens of one country and how they are ignored by the higher authorities, child marriage is one of them.
As per the statistical reports, 21% of girls in Pakistan are married before they turn 18 and 3% of girls before their 15th birthday. Whereas India, Bangladesh, and Nigeria have the highest percentage of child marriage in the world.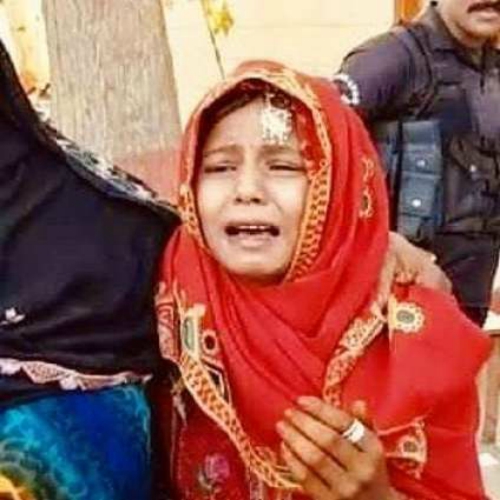 Recently, a story surfaced on social media and caught everyone's attention was the case of a child bride. In Pakistan's Rural Sindh area, an 8-year-old girl was sold by her parents to a 45-year-old man for rs. 2.5 Lacs. Luckily, the local police was informed on time and the marriage was stopped.
Later, the police caught the man and the little girl was sent back home. This made people really angry and they are asking till when? And what if the parents sell her again to someone else? The questions are yet to be answered.
After the incident Additional Inspector General of Police, Sukkur tweeted:
Child Marriage Function was stopped by Kashmore police in time, case registered immediately, culprit arrested and child girl sent back home. And it all happened in less than 24 hours, dear friends. Life of a 10 years old innocent girl was saved yesterday by Police. pic.twitter.com/nBhNwy7flv

— Addl IGP Dr Jamil Ahmed (@jahmed95) May 3, 2019
As the author of this article, here are my thoughts:
The soul that waited for the rainbows,
Searching for the beauty of life,
Turning sadistic realms in tons of laughter,
The world that she herself defined,
Learning to keep the secrets of happiness,
Frowning upon the deceitful shadows,
Making others smile with acts of madness,
Defeating every sorrow, loving to grow,
Envied this place for the affection it carried,
Thinking that monsters lived in bedtime stories,
Slept in peace and dreamt like a queen,
Making everyday memorable was her daily routine,
Spent every second under heavenly plains,
Unaware of the changes that demons made,
Her beautiful dwellings are now all dust,
Bearing this disaster just broke her trust,
Revelation of faces that wore masks of grace,
Realizing that monsters were always above her head,
Felt broken and vulnerable trying to hide,
Tears kept falling from her adorable eyes,
Holding her heart tight and seeing her heavens end,
Weeping and screaming wasn't something she had planned,
Once again the devilish winds start to blow,
Leaving her with new hope to further grow.
Child marriage is a crime and should be taken as one. The concerned authorities should ensure that the girl is totally safe now and her parents won't sell her to anyone else again. Keen steps should be taken by the authorities so that these acts of pedophilia are put to an end.