In Pakistan, VIP Protocol gets the better of most of us, even if we do not want it to. Influential people of the country roar through streets in protocol, while the common man waits for the VIP and his cortege to pass. Not just these VIPs, but their spoiled children too get the same protocol for absolutely no reason.
An incident occurred at the Benazir Bhutto International Airport Lahore, on 4th March, 2018, around 4:30 am in the morning. A man named Adeel Khan was sitting at the Airport Lounge, waiting for his flight TK710. During the same hour, a man along with 3 people from his private security, on duty from the Special Branch just for him, sat at a little distance.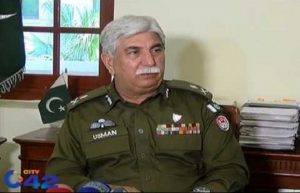 Adeel Khan, who wrote his story on social media websites, says that he is an asthma patient. The man, with his 3 men cortege, lit a match and light up his cigarette, started smoking inside the Airport Lounge, something that is against all security measures. When he lit the cigarette, Adeel asked him not to smoke inside the lounge as it was against the rules and that he was asthmatic.
Son of former IG with the help of his guards assaulted a fellow passenger in international arrival lounge who stopped him from smoking pic.twitter.com/r464eEm2KM

— Naimat Khan (@NKMalazai) March 4, 2018
The man, who was recognized as the son of Ex-Inspector General of Police Punjab Usman Khattak, was one Mohsin Khattak. Adeel went up to the CAA counter and lodged a complaint that a man was smoking inside the lounge. When he pointed towards Mohsin, the junior Khattak along with 3 men on his duty, walked up to Adeel and then Mohsin started smoking in his face. After that, all 4 men started assaulting the innocent passenger for complaining against him, torturing him in the process.
Allegedly, Interior Minister Ahsan Iqbal has taken notice of the incident and directed Islamabad police to conduct a detailed inquiry and submit a report to him within next 48 hours.
Several other passengers also lodged written complaints against the man for violence, high-handedness and hooliganism, who also stated that when the incident was taking place, neither ASF nor did the CAA try and intervene.
It is because of good men like Adeel Khan that the country still functions well. People who actually stand up against wrong being done at any place are the real heroes. However, more was expected of the ASF and CAA, as the son of an Ex-IG should not be somebody who controls them.