The most successful business tycoon of Pakistan, Malik Riaz of Bahria Town, has remained in the limelight regardless of his interest in becoming famous or not. The industrialist/developer is worth a huge sum of money, and is considered to be one of the richest people in Pakistan.
Recently, law enforcement agencies (LEAs) halted the construction work on almost 1100-1500 acres of land in Bahria Town Karachi, in compliance with the Supreme Court's verdict which was passed in August 2016.
News sources alleged that Malik Riaz's company had included illegal and occupied land in Bahria Town's nearby areas, which were not part of the plan. Thus, the Sindh High Court acted on a local petition and directed authorities, including the Malir Development Authority (MDA), to stop further construction in Bahria Town.
However, this was not the only interesting story that happened related to the case. As per allegations and rumors, a brigade of Rangers had raided Bahria Town Karachi over illegal construction and other unknown reasons. But the Chairman of Bahrian Town, Malik Riaz was quick to address the situation through a video message on Facebook.
Malik Riaz said that the allegations of Rangers raiding on Bahria Town were false and absolutely baseless. He further went on to say that people and sources that have claimed of a raid are same anti-Pakistani elements that do not want to see Pakistan progress and improve.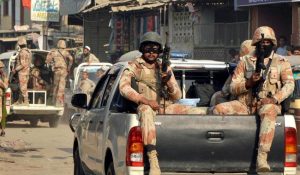 Malik Riaz also talked about every Pakistani now dreams of living in Bahria Town and this was an understatement. Bahria Town has benefited and progressed by leaps and bounds and is almost necessary near every big city. With Islamabad, Pindi, Lahore and Karachi having a Bahria Town each, prospects of a Bahria Town Multan and soon, the first in Quetta, Balochistan, too is on the cards.
Malik Riaz concluded his stance on the Rangers incident saying feudal aristocracy is the real enemy of Pakistan as it does not want to see middle and lower middle class prosper.