The case that woke the country to new realizations, rape and murder of 7-year-old Zainab Ansari, had demands for justice spreading like wildfire. The particular incident became the epitome of resilience against children in Pakistan, as to how this vice can be curbed and our children could be saved.
After Zainab, little Asma bibi was raped and murdered in Mardan, Khyber Pakhtunkhwa. Prompt action in both cases became the reason for early arrests of the rapists in both provinces. The people of Pakistan now expect the police and other agencies to nab these vultures as soon as possible. The hunt for another such animal has begun once again, this time, in Jhang, Punjab.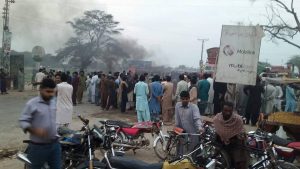 As per news that has gone viral on social media, along with the heartbreaking video, a 7-year-old girl was raped while she was returning home from school. The little girl's name is Aisha and she was raped by an unknown man. A rogue protest was held at the Multan Road in Jhang, where people protested vigorously for the prompt arrest of the culprit.
Little Aisha was returning from the Government Girls High School in Bharwana, Jhang, when her way was intercepted by a man who had been following her. The accused culprit nabbed her and took her to a nearby building where he raped her several times, injuring her in the process, leaving marks on her body. In the heart-wrenching video, the little girl can be seen breathing for air, not functioning properly.
Father and uncle of little Aisha made a video statement where they demanded the quick arrest of the animal who had wronged their 7-year-old angel. In the video, Aisha's family pleaded to the government of Punjab, Chief Minister Shahbaz Sharif, Rana Sanaullah, the IG Police, Chief Justice of Pakistan, COAS Qamar Jawaid Bajwa and DPO Jhang.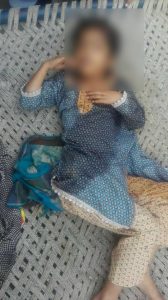 They threatened the authorities that if quick action is not taken, they would create an atmosphere in Jhang that has never seen before, blocking all roads coming in and out of the city and bring it to a complete shutdown. They demand justice and work on the case without any wait. The only good news in the whole ordeal is that the little girl wasn't murdered by the animal, unlike the cases of Zainab, Asma and several other little angels.
People on social media have been reminding the authorities that Zainab was not the only daughter of the nation, but these little girls, all of them who are wronged, are our daughters and they deserve quick justice just as in the Zainab Ansari case.