Sexual harassment over the years has been infested in the roots of this nation and with each day passing by it seems to be getting stronger and stronger.
A high majority of women face this issue in their daily lives to such an extent that now it's included in their daily routine. The issue of harassment being kept as a secret matter gives a leverage to the suspect for getting away with it, as hardly 1% of the women raise their voice out of the seldom against injustice.
This misogynist scenario has also prevailed in the educational institutes where it recently made yet another headline. Karachi University is said to be best for education, however, their harassment incidents have made them a leading institute for women being unsafe. Last year on one of Karachi University's assistant professor refused to stay silent and shared her terrible harassment experience against a Professor Sahar Ansari.
THE SUSPECT SAHAR ANSARI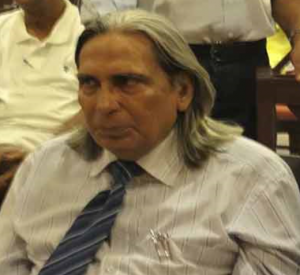 This incident was reported 2 years back and since then two committees investigated it. Dr. Navin G Haider filed a complaint to the vice-chancellor Dr. Muhammad Qaiser in April 2016 against their visiting professor who she accused of sexual harassment.
To dig deep into the issue a committee headed by Dr. Rahila Anjum was formed, which later in May 2016 proved the visiting professor to be innocent. Although Dr. Navin didn't stop and approached Justice (Retd) Shahnawaz Tariq of Provincial Ombudsman for the Protection of Women against Harassment at the Workplace. In August 2017, Justice (Retd) Shahnawaz Tariq denied the institute's inquiry report and instructed the vice chancellor to form another one in order to get information about the matter under the Protection Against Harassment of Women at the Workplace Act 2010.
Dr. Navin on November 24, 2017, submitted a written statement of dissatisfaction in which she highlighted the fact that Sahar Ansari used friendship as a reason to shake her hand around February 2016.
COMPLAINT BY DR NAVIN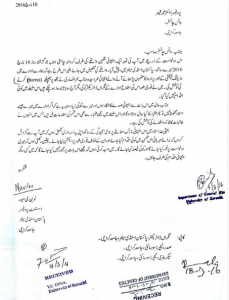 She said "the handshake was made to initiate an uninvited and uncalled for conversation," while sharing the incident she further added that he intentionally did that and kept holding her hand for more duration than a normal handshake that made her uncomfortable. This was not the only incident as it happened yet another time
"[He] held my shoulders and pushed me back against the PA table. He began talking to me and said "Aap hichkicha kiun rahi hain" [why are you hesitant]," Navin wrote. She further said that she was horrified at Ansari's behavior and yelled at him loudly, saying "What are you doing? Are you mad? Do you have no shame?" She immediately pushed him back and ran out of the room.
Even after such events taking place, again and again, no action was taken until now when a three-member committee proved the professor of being guilty. He harassed the fellow colleague at the Pakistan Study Centre and now has been ordered to not be involved in the institute's activities.
SUBMISSION OF INQUIRY REPORT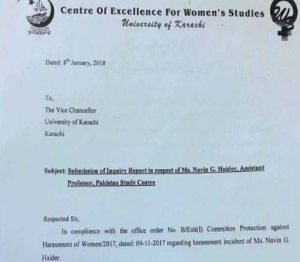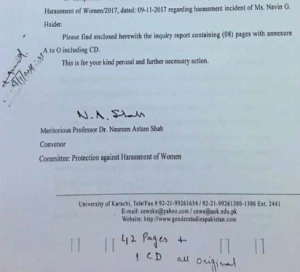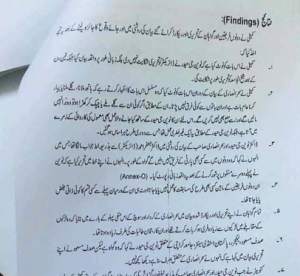 There is no shame in addressing the issue that you are going through and it doesn't make you responsible for what you experienced. Raising your voice against such issues makes you a better person that had the courage to bring the suspect to justice and kept yourself along with the others safe from the ruthless person roaming around freely on the streets in our homeland.