Pakistan, a country that was build on the ideology of Islam, a separate country for the Muslims of the sub-continent, was never supposed to be violent towards the minorities. The Ahmadi community of Pakistan, however, since the inception of the country, has been prosecuted and tormented by different groups.
Recently, a historical Ahmadi mosque situated in Sialkot, Punjab, was demolished by an angry mob during the Holy month of Ramadan. The mosque was empty when the mob attacked it, just after the Fajr prayers the other day. The mosque had remained intact for 135 years, where Ahmadi Muslims gathered daily to offer their prayers.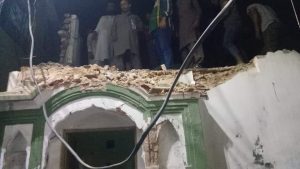 Ahmadis were declared "non-Muslims" by Pakistan in 1974, depriving them of many basic rights. "An emotionally charged mob of people belonging to different groups and segments of society reached there and damaged several parts of the building," a police officer from Sialkot said.
Mob in Sialkot vandalized Ahmadi Mosque Bait ul Mubarik. As per @SaleemudDinAA local Tehsil Muncipal Admin is backing the mob & intends to destroy another historical building of the Community as well. No LEAs on site to protect. Would this mob be punished under 295PPC @CMShehbaz? pic.twitter.com/rjiCHSJdSN

— M. Jibran Nasir (@MJibranNasir) May 24, 2018
Leftist Pakistanis seem to be very angry on the incident, especially after the remarks of a cleric went viral on video, just after the mosque was demolished by the angry mob.
"I want to thank the Sialkot administration, the DPO (District Police Officer), DC (District Commissioner), the TMA (Town Municipal Corporation), from the bottom of my heart," said the cleric. "Because as Muslims it was your responsibility to complete this work."
This is how Pakistanis reacted to the demolition of the 100-year-old mosque
Suppressing someone's perspective by voilence causes it to become even more outrageous. How do we believe that attacking on Ahmadi's mosque in Sialkot is going to help suppress the Qadyanis. It's something more than just voilation of minority rights #AhmadiyyaPersecution

— Syeda Zainab Ali Nadeem (@SyedaZainabAli9) May 25, 2018
3) Disagree with Ahmadi beliefs all you want, I know I personally do, but to each their own. If they want to call their Houses of God a mosque, then fine. We should be doing more however to condemn the persecution they experience for their beliefs. #AhmadiyyaPersecution

— ジ ا W ا ਡੀ (@only1jaywaddy) May 25, 2018
These mazhabi animals who destroyed the Ahmadi mosque have no place in Pakistan.

— Hassan Parvez (@hparvezdcd) May 25, 2018
There is a culture of impunity in #Pakistan for the crimes against Ahmadis. This morning, a mob of 500+ in Sialkot vandalised a historical mosque of the #Ahmadi community along with two other buildings. pic.twitter.com/7kxBvEcBP9

— Naila Inayat (@nailainayat) May 24, 2018
And Islam has been saved again. This time in #Sialkot where over a 500 "Muslims" gather together to ransack an #AHMADI MOSQUE and attack houses. Dear land of pure, how many more!? #EndAhmadiApartheid pic.twitter.com/AqtgrxJFUj

— Ayesha (@Ayeshaspeaksnow) May 23, 2018
Imagine waking up, eating sehri, praying, and then going to destroy a mosque because of your anti-Ahmadi prejudices. It's sickening. And just as sickening is the way that I don't see any of those Sunni activists or imams renouncing it.
Your silence is deafening.

— irene (@irenea99) May 24, 2018
When you refuse to say an '#Ahmadi mosque' has been destroyed and insist on calling it a 'property' instead, don't blame it on an angry mob out there. Look in the mirror; the mob is you! #AhmadiApartheid

— Nida Kirmani (@nidkirm) May 25, 2018