Pulwama terror attack took international media by storm. We all know how the tension between Pakistan and India escalated after the incident and the airstrikes made the situation worse. The political ties were already tensed and Indian media keeps adding fire on it. But the sensible people in India who know about the real facts are pointing fingers towards Indian Prime Minister Narendra Modi. Those people are questioning Modi for not probing into the negligence and conspiracies which became the reason for the incident.
The Indian students are raising some sane questions in their latest song on Pulwama incident. A group of four girls can be seen in the video who are wearing black dresses as a symbol of protest. The students asked why the Indian government is blaming the neighboring country when your rivals are sitting with you.
Read The Song Lyrics Here!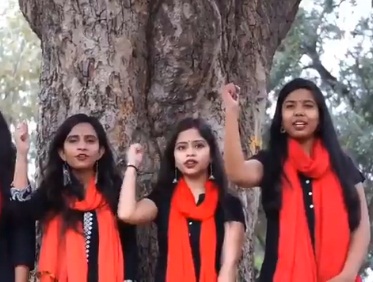 Pulwama Main Veeron Ny Jo Jaan Desh Py Waari Hai
Deshman Ki Auqat Nahin, Ye Apnon Ki Gaddari Hai
Dushman Ghar Main Baithy Han, Tum Kosty Raho Parosi Ko
Jo Churri Baghal Main Rakhty Hain, Tum Maar Do Na Us Doshi Ko
Is Dhoky K Hamly Main Jo Apnon Ka Kaam Nahin Hota
Pulwama Main Un Veeron Ka Ye Anjam Nahin Hota
Apnon Ki Gaddari Ka Jo Hota Is Main Roop Nahin
Kaisy Pata Chala Dushman Ko Ye Gaari Bullet Proof Nahin
Un Veeron Ko Gaddari Ka Gar Ahsas Zara Hota
Pulwama Main Aik Bhi Sainik Na Lachaar Mara Hota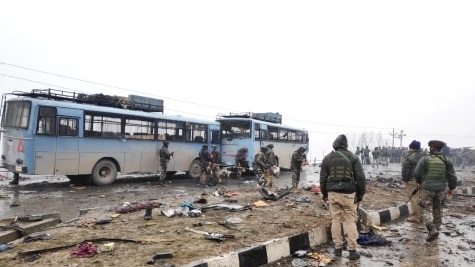 Kon Hai Jai Chand Apny Desh Main Kab Ahsas Tumhen Ho Ga?
Ye Desh Khatam Ho Jay Ga, Kya Tab Aabhas Tumhen Ho Ga?
Kya Bus Gharib Maa Baap Ny Raksha Ka Beera Thaya Hai?
Aik Bhi Neeta Ka Beta Kyun Shaheed Nahin Ho Paya Hai?
Jo Shaheed Kay Ghar Py Likhty Ho, Mehsoos Karo Us Pathar Ko
Agar Zara Dum Rakhty Ho, Tum Tor Do Dhara Sattar Ko
Kabhi Dekhao Hamen, Tumhara Kitna Bara Kaleja Hai
Kabhi Milo Us Baap Sy, Jis Ny Fauj Main Beta Bheja Hai
Watch The Complete Song Here!
People On Social Media Are Appreciating The Students For Raising Their Voice!
One Of The Biggest Question!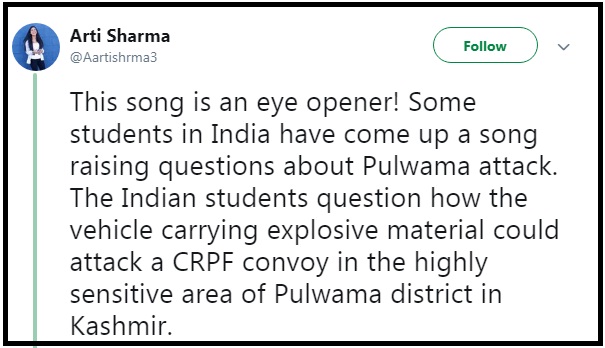 WOAH!

Indian National Security Advisor Ajit Dovel in under opposition's criticism for the tensions between the two countries. They consider Ajit Dovel responsible for Pulwama incident and claiming that he could be behind the incident for gaining the political favor for general elections going to held in May 2019.
Not only Congress, the former intelligence officers and defense ministers in India are openly criticizing Ajit Dovel for planning the Pulwama to get the justification to create tension at Indo-Pak borders as it suits the Modi government before Indian general elections. Narendra Modi is under criticism from all over the world. There are two months left in the elections in India, let's see if Modi would gain respect in his country or this hatred among the masses would get him in trouble.