Allah says in the Holy Quran that,
Those who believe fight in the cause of Allah, and those who disbelieve fight in the cause of Taghut. So fight against the allies of Satan. Indeed, the plot of Satan has ever been weak – Surah Nisa, verse 76
The above verse is often used to describe the importance of Jihad Fi-Sabilillah by Islamic scholars. According to them, the concept of Shahadat in Islam encourages a soldier to fight for his homeland. This is why the brave soldiers of Pakistan never step back from the border as they want to mark their name as a 'Shaheed'.
The famous Pakistani political commentator Syed Zaid Zaman Hamid, better known as Zaid Hamid shared a video of Indian soldier from his Twitter account in which he is giving advice to all his fellow army men. Zaid wrote in the caption that people can see the difference between the two armies. 'Entire Indian army is a bunch of demoralized, disgruntled, hungry & dissatisfied officers & men', wrote Zaid in his tweet.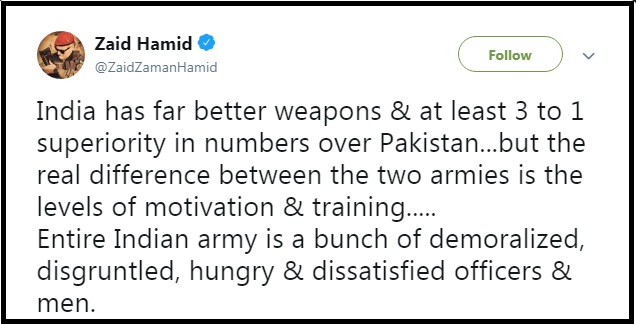 It can be seen in the around 2 minutes long video that the Indian soldier is almost crying and complaining about the issues Indian soldiers are facing. 'Why the soldiers who are receiving a salary of Rs. 20,000 are fighting with the enemies on the borders while the majors who are receiving 2 or 3 lacs are sitting behind', said the soldier. He also showed his concern about the protection of the families of soldiers after them. The guy was seen disappointed by the government as well as they had done nothing to save their agent in Pakistan caught from Baluchistan, Kulbhushan Yadhav.
Watch The Complete Video Of Indian Soldier Here!
Pakistanis Thought That It Is All Because Of Lack of Eman!
Here Is What People Are Saying…
That Tea Would Be Remembered For Years!

Point!

Last year, Indian Ministry of Home and Defense submitted before the Central Commission Information that there is no such term like 'Shaheed' or 'Shahadat' defined anywhere in our constitution. So, they shouldn't use it for any military person or police officer.
From the above stance of the Indian government, it can be proved that due to the lack of faith, Indian soldiers are not brave enough as Pakistani soldiers are. This is the reason why we always see videos of desperate Indian soldiers on social media always.
Do you want to add more to the story? Share your thoughts with us in the comments!