This post is also available in: العربية (Arabic) اردو (Urdu)
While all of the nation was praying for the safety of the people, and hoping that things would calm down. But after the air strike that India allegedly did late in the night and entered Pakistani borders for a few minutes and all they could do was to harm a few trees but they claimed to have done a good job! Pfft!
There were many people who begged and prayed for this war-like situation to end, but looks like it's too late for that!
The whole fiasco has taken another angle altogether! But we hope everyone is safe!
Praying for all our troops placed on the Easter border & all citizens who live near it. This time isn't easy for families across border either. Hope ppl of India realise how their government's self serving war hysteria has made the region unstable. May Allah bless us with peace

— M. Jibran Nasir (@MJibranNasir) February 26, 2019
When India decided to violate Pakistan's air space, Pakistani were worried about their national security! But Imran Khan and DG ISPR took some decisions and put out a statement that India will be given a surprise shortly.
Well, who knew that the surprise would be given this soon!
Indian jets again tried to enter LOC, and this time the response from Pakistani Air Force was fast enough to knock those jets down.
In Muzzafarabad two Indian air jets collapsed today morning. The Jets collapsed in the Budgam region of occupied Kashmir. The planes took off from Srinagar airbase and crashed into an open field in Budgam and the pilots lost their lives on the spot! One of the Indian pilots were arrested by the Pakistani army and others have been missing!
DG ISPR confirmed the news through his tweet, and served his promise to give the surprise!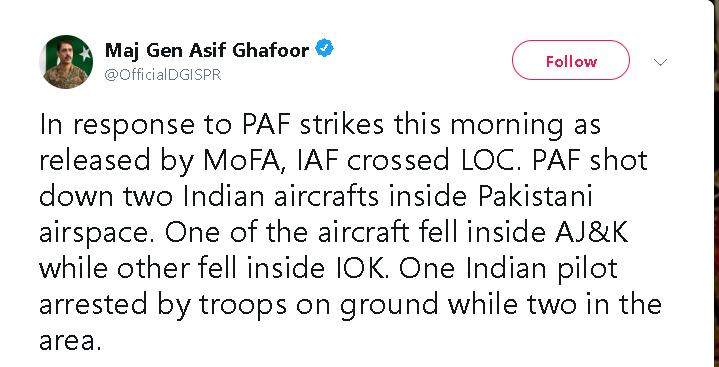 Here is the video of the poor IAF jet!
RT @JawairiaJamshed: How is the Surprise India #PakistanArmyZindabad #PakistanStrikesBack #HowsTheSurprise @AdityaRajKaul pic.twitter.com/JcsYSbXnDb@ZaidZamanHamid

— Mr Max (@love1pakistan) February 27, 2019
India, how was that for a surprise? 😉