Only a couple of months to go till the country finds out who its new Prime Minister is going to be, and with the way things look right now, most definitely, it is going to be Imran Khan, the Pakistan Tehreek-i-Insaaf Chieftain, who has fought hard for the people and against the oppressors.
Imran Khan ousted the former PM of the country, Mian Muhammad Nawaz Sharif, single-handed. His stance against corruption and foreign assets proved to be pivotal in the ex-PM's removal and now, the country is all but ready to bring the Captain of the 92′ winning World Cup team into the highest office of the country.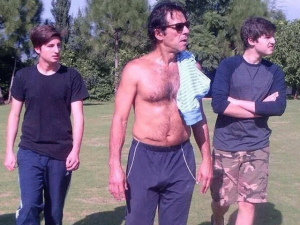 Regardless of his thinking, people admire Imran Khan for more than one reason. His looks, personality, and his never say never attitude are some of his top traits apart from his political stance. Some time back, a video surfaced where Imran Khan was seen working like a beast in the gym, doing a routine that not many youngsters can pull off.
Imran had been doing this workout routine at the age of 66 and it definitely won over a lot of people. Somebody even went to the extent of saying, "let's just vote for Imran Khan because no other person in Pakistan can be a PM and workout like this!" – Others, harsh as ever, said that Khan was on steroids, because nobody at 66 can do what he was seen doing.
This is how the internet reacted to Imran Khan's physique and his workout routine
Imran Khan is in real form today.
Those push ups at his gym are paying off today.

Kya Bol Raha Hai Hamara Kaptaan.
Thumbs Up.

— Khurram (@MahmoodK69) May 12, 2017
No pain no gain. This morning, I cant even move my arms because I overworked them at the gym but after a few days when the muscles repair, I will be stronger💪
Imran Khan said at the 2014 dharna, the more weight one puts on the arm the stronger it will become.

— Saira Mehreen Abbasi (@Saira_M_Abbasi) May 3, 2018
✋ All Insafians should be incredibly sexy and fit like Imran Khan. Get off your bums and hit the gym tomorrow… Pliss!!

— Mariam's Madness (@mariamsmadness) September 24, 2016
Have to say Imran Khan's gym break pics are impressive, the guy is extremely fit

— Fasi Zaka (@fasi_zaka) September 12, 2014
The day when Javed Hashmi's going against Imran Khan makes headlines. And the day when Imran Khan's going-to-gym makes headlines.

— Mehr Tarar (@MehrTarar) September 1, 2014
No better way to start off your day than sweating it out in the gym #IKinLodhran #LodhranKaptaanKa@ImranKhanPTI pic.twitter.com/DvsuJ3rwDf

— Sumaira Jamil (@its_sumaira) February 9, 2018