One of Pakistan's most famous personalities, Imran Khan Niazi, the PTI Chairman and for many, the future of Pakistan, has once again come into the headlines.
According to various media sources, Imran Khan Niazi has entered his third marriage, hoping to be luckier this time out. The reports also suggest that the PIT Chieftain has married his former Spiritual Guider, who he used to visit for a clearer sense and intake of life.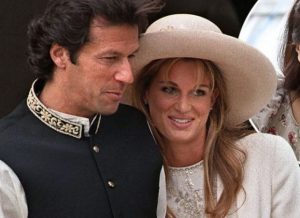 Some are still saying that the news might be incorrect and should be considered as a rumor, but Umar Cheema, the The News journalist who got Nawaz Sharif disqualified over Panama Leaks, has confirmed the news himself.
Imran Khan had previously married Jemima Khan and Reham Khan, unfortunately, his marriages to both failed miserably – the one with Reham Khan in particular being an absolute social/political disaster. Many on Twitter and other social media platforms claim that Imran Khan has married Bibi Bushra a.k.a Ms. Pinky, who now advises Imran Khan on each move he makes.
According to The News, "The nikah was performed by Mufti Saeed, a member of PTI core committee, who was also the nikah khawan when Imran publicly entered into marriage with Reham Khan on January 8, 2015 amid reports of secret nikah in November 2014. Awn Chaudhry and Naeemul Haq though denied the report of the new marriage, the Mufti was reluctant to either confirm or reject this when approached by The News."
The News further states that: "The ceremony took place in Sector Y of Defence Housing Authority, Lahore, at the residence of a close confidante of the bride who also happens to be a friend of a PTI leader. The bride herself lives in Gulberg 3.
The bride filed for the dissolution of her marriage with a government servant some months back. Her former husband confirmed the separation which, he said, they opted for spiritual reasons. He, however, denied her former wife has married Imran."
Only time will tell how credible this news story is but currently. social media is rumbling with the news of Imran Khan getting married again.