Disclaimer*: The articles shared under 'Your Voice' section are sent to us by contributors and we neither confirm nor deny the authenticity of any facts stated below. Parhlo News will not be liable for any false, inaccurate, inappropriate or incomplete information presented on the website. Read our disclaimer.
Ali Ashraf, a singer from Islamabad, is about to release his second album Kala Peela Neela this summer to add tunes to the ongoing drama of election campaign 2018. Written and composed by Ali and produced by Jonah Brockman, the album captures the vibe of the forever vibrant and turbulent landscape of Pakistan's power arenas.
Ik Wari Hor is the first official release from the album and it is about the people of Pakistan. A rock song with tenacious lyrics and pumping groove, this song is a perfect electo-patriotic kick!
A unique video that is a parody of the entire political environment of Pakistan. It starts off with a typical Jalsa atmosphere in Pakistan but instead of people, you see cows and buffalos as the audience and then there is a band playing bagpipes to them. "Bhains k agay Been Bajana". As the music picks up, you see a stage set for a leader to appear and give his sermon. And then the singer walks in waving his hand to the crowd of cows and buffalos.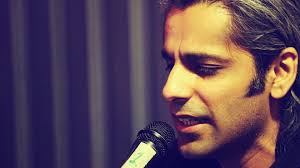 The song kicks off and you see the energy of a typical Jalsa. But the credit goes to the beautiful lyrics of the track. It captures the true essence of our political atmosphere. There is a scene with a Ballot Box in front of a Buffalo and then that Ballot box is filled with Chara (hay/cow feed) – showing that a vote wasted is a future destroyed. This video and its lyrics are a great testament to the People of Pakistan. Towards the end, the artist raises the flag of Pakistan and the People run in to replace the cows and buffalos. Giving a message of hope.
Although this music video is a parody and made in good humor the message is very simple. People have the power and they should not let a few corrupt politicians destroy their future and milk them for five years. With a strong message and an entertaining video, this video will make you think about your role in Pakistan. A not so Common Man. The cinematography, the acting, the lyrics, the music – everything is done professionally and hits all the right notes in every aspect.
Ali's notion of music, "A mystic divinity that flows through the instruments and manifests through spoken word, connecting one person to another through pure emotion with a personal interpretation of every song by every listener"
Ali's debut album was Paheli which was released in 2016. Written and composed by Ali and produced by Jonah Brockman, the album was a mix of progressive rock with eastern melody structure and feel. His second album KALA PEELA NEELA will be releasing in 2018 and will be an all and all rock 'n' roll album.