After Sharmeen Obaid Chinoy's Oscar winning documentary 'A girl in the river' based on honor killings surfaced, the short-film became talk of the town and made such killings the hottest topic. It brought about sedimentary but evident change in such cases, of which's highlight is the women protection bill which was introduced in Punjab.
However, in the last year or so, honor killings have returned to the country and the situation looks very serious. Every other day, events and incidents of honor killings take place in different parts of the country, with little or no remorse on the killers' end.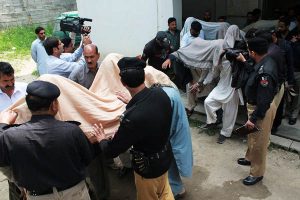 Another incident of honor killing was reported from Pakistan's metropolitan city, Karachi, where a young bride and her husband were murdered by family members. As per reports, 32-year-old Amir and his 24-year-old wife Mukhtiba were murdered in cold blood by the girl's family members. The couple was on their way home after meeting relatives in the Sukhiagot Area of the city.
As soon as they got on the street, unknown assailants availed the opportunity and shot at the couple indiscriminately, taking both their precious and innocent lives. The only crime of the couple was that they had eloped in a free-will marriage, which was against the girls' family's wishes. Sustaining critical wounds, the couple was moved to the Abbassi Shaheed Hospital where they were pronounced dead.
It had been only two years that the couple had got married, and the family members took revenge served as a cold dish. The couple had no idea that their lives would be in danger two years after they had formed the love-marriage bond. Police registered a case against the woman's family on demand of Amir's father.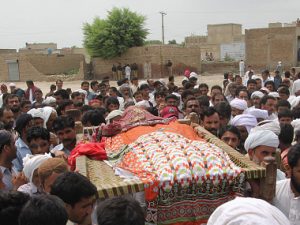 Until now, police has been able to arrest one of the nominated members in the FIR, the girl's father. Her father and her uncle still remain at large, on the run. According to the Human Rights Commission of Pakistan, at least 280 precious lives were taken in the name of honor between 2016-2017.
This is the second case of honor killing in Karachi in the past week. On April 24, another young couple Amr and his 22-year-old bride Wasima were killed by family members in the name of honor as well. Unknown assailants stormed the house the couple had rented and bolted their bodies with 9 mm bullets, of which's shells were recovered from the house. After hearing gunshots, neighbors had informed the police. Upon arrival, both Sher Amn and Wasima were found dead.