On 26th November, Hamza Nawaz – a student of Punjab University met a horrible hit-and-run accident. When his fellow students got to know about Hamza, they rushed to the spot and took him to the nearest hospital. Due to serious injuries, the administration denied treating him but fortunately, they provided Hamza with first aid. Upon reaching the General Hospital, Hamza went through a neurosurgery and from that day, he is in an induced coma.
Here Is What Hamza's Fellow Students Posted On A Facebook Page!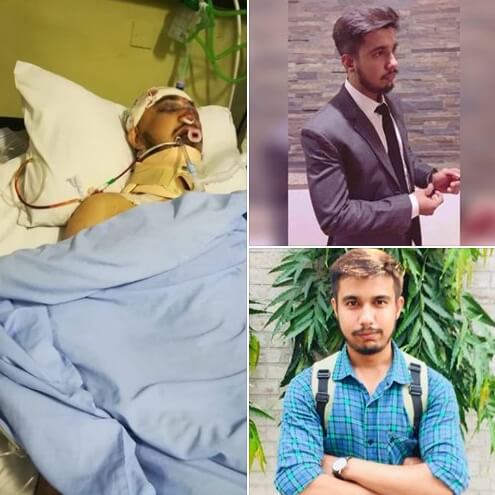 "Hamza Nawaz is a student of Metallurgical & Materials Engineering at Punjab University. He met an accident last Wednesday. It was a hit and run scene. We're still unable to find the culprit. We got a call from Rescue 1122 that they found him lying on the road opposite to Ayub Stadium in Lahore and they are taking him to Services Hospital. When we reached there Services Hospital denied to treat him.
The lower part of the body was totally fine. However, the head and face suffered major injuries. In fact, it was very difficult to recognize his face. So we took him to General Hospital. And there we had to hear that "Only his heart is working, his brain is already dead. Just keep him on the bed until his breath stops and then you can take the body home.
They didn't even put him on a ventilator. Thankfully they provided us manual pumping ventilator (BVM) and we (around 20 persons) kept pumping alternatively, to keep him alive.
On Thursday morning, National Hospital agreed to treat him. However, the doctor said he cannot confirm his survival. At 6 am he went through a neurosurgery. From that day he is in Induced Coma. Now, the doctor has recommended tracheostomy operation which will be done tomorrow. Hamza belongs to a lower middle-class family. His family cannot bear his hospitalization expenses. From Wednesday to Sunday all of the bills were paid with the help of donations that we collected from the other students of the Engineering department, our families and our friends.
In these 4 days, we've already paid around 5 lacs. Now according to the doctor, Hamza needs to be hospitalized for at least 3 weeks. And around 20 lacs are still required. It is very difficult for us, being students, collect this much amount. So we need your help in saving the life of our friend."
For Donations contact: 03244331232
ACCOUNT details: IBAN NO: PK48 MUCB 0653 1387 2100 1013
Read The Complete Post Here!
Hamza Nawaz needs your help and prayers both. Please, spread the word as much as you can and play your role in saving Hamza's life. JazakAllah!