It is a fact that life has its ups and downs. Some of these are better or worse than others, and some are just completely horrible. After reading what a 19 years old student Anas has been going through, most of us can just pray that may Allah Almighty save us from falling into the latter category.
Hafiz Anas Shaikh has been diagnosed with a blood disease 'leukemia at the age of 19. His father is a school teacher and can't afford the expenses of his treatment which is around $25000. The fellow students and family relatives of Anas are raising their voice on social media so that people could reach him and help.
Here Is What Anas's Fellow Students Posted On A Facebook Page!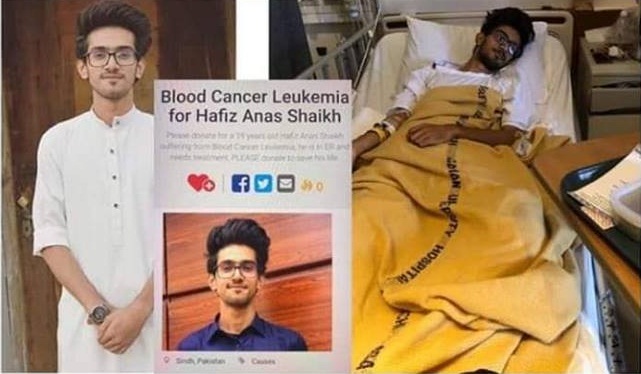 Please donate for 19 years old Hafiz Anas Shaikh (the only son of his parents) suffering from Leukemia. He is in ER and needs treatment, PLEASE donate to save his life. They live in Hyderabad Khata Chowk in a small house. Anas graduated from Saint Bonaventure's and completed his intermediate in Biology, he wants to become a doctor. 
His father is a school teacher. His condition is critical and needs financial assistance to start the procedure in Agha Khan Hospital Karachi. The Goal is $25000 for his procedure. You can pay Sadqa, I can provide the account in Pakistan.
Account Title: Khawaja Rashid
Bank Name: Standard Chartered 
Account Number: 01-1623843-012
Phone Number: 03112922282
Please help the young man. It's not the matter of paying a huge amount you can donate the least amount as well. Jazak Allah
His Aunt Sadia Adil Posted About Hafiz Anas's Condition From Personal Facebook Account
One of Anas's family friend Shaharyar Siddiq wrote in his post that,
This is a genuine case. I have personally verified it – he's our family friend's close relative. My family and I have donated as much as we could. I would urge everyone to please come forward and donate to help save this brilliant and intelligent young lad who has his whole life ahead of him. Feel free to verify yourself from the MR number given below. Every donation counts. Thank you.
Read His Complete Post Here!
Hafiz Anas Shaikh needs your help and prayers both. Please, spread the word as much as you can and play your role in saving Anas's life. JazakAllah!