Days after the bone-shaking incident in Kasur, where 7-year-old Zainab was raped and dumped in a pile of trash, another spine-chilling story has emerged from the Ibrahim Hyderi area of Karachi.
As per reports, the security guard of a private school in Karachi's Ibrahim Hyderi Area attempted to abduct and rape a 5-year-old female student who studied in the same school.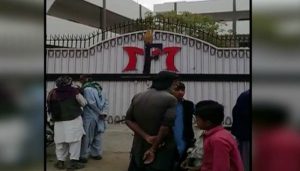 After trying to have his way with the little girl, who miraculously escaped, the little girl went home and informed her parents of the inappropriate things the security guards had attempted to do with her. At this, enraged, the family reached the school's premises and beat the security guard up.
As they taught him a lesson, the police was informed and DIG East  Sultan Khawaja confirmed that the suspect was arrested and was being interrogated regarding the alleged incident. Chief Minister of Sindh, Syed Murad Ali Shah, has also taken notice of the incident.
The little girl has also been sent for a thorough medical check-up to a local hospital. Incidents like these remind us that the plague of child abuse doesn't just rest in Kasur or all of Punjab, it is a vice that is set deep in our society, in our minds, due to the massive load of frustration we carry around — bound by the restrictions of society.
News anchors, ever since Zainab's death, have urged parents to counsel their children and teach them how to react in such circumstances. First and foremost, staying away from strangers is most important — secondly, if any such incident does take place, where a child is harmed sexually, the child, no matter how young they are, should be able to tell their parents who did what to them.
According to a research social awareness organisation Aahung, as many as 47 per cent of child sexual abuse incidents are perpetrated by the relatives of the child. Around 43 per cent of the perpetrators are acquaintances of the child, while only seven per cent are strangers.