This post is also available in: العربية (Arabic) اردو (Urdu)
Pakistan is home to approximately 20 million homeless people and a huge chunk of the majority lives below poverty line. In such times, when the government should be doing everything to cater to the poor, something extraordinary has happened in Murree.
As reported by Senator Sherry Rehman on Twitter, the Governor House in Murree has just introduced Gold toilets worth a whopping Rs. 600 million, which means 60 crore rupees. The upgrade has also brought in lavish living rooms for guests and high-profile people.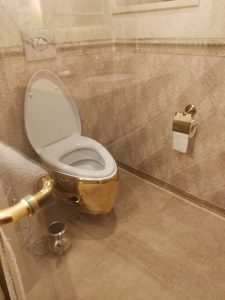 Even though the lack of toilets is linked to India, Pakistan ranks at number 10 on the list of countries with worst facilities for toilets. Almost 40 million people have limited or no access to hygienic toilets.
The tasteless new golden toilet and rooms at Governor House Murree. The whole facelift cost Rs 60 crores. pic.twitter.com/5MF7nTxquA

— SenatorSherryRehman (@sherryrehman) October 29, 2017
As reported by ProPakistani, the budget for the PM Secretariat and President House increased in the fiscal year 16-17 by almost 50 million rupees each. Every single year the government vows to cut down its expenses to help out the general public in other norms and forms.
With the lack of direction in the budget allocation and the influential responsible for the country's cache of money, the public can only dream of relief. The concept of gold toilets for people is so profound that the mind simply doesn't apprehend the thought put in the decision.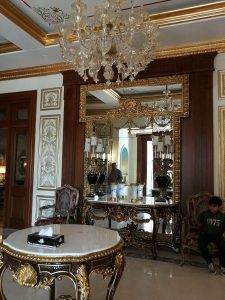 Pakistanis on social media have not been very kind ever since the news broke out. People have spoken against the government's actions, that such extreme renovations at government facilities are unneeded.
Supporters of the incumbent government claim that this is the same protocol that is followed at Bani Gala and Bilawal House. However, the difference is that both those places are private properties, while the Governor House comes under the government of Pakistan.