This post is also available in: العربية (Arabic) اردو (Urdu)
A tribal incident that took place a week ago has caught a lot of attention due to its nature. Tragically, a young orphan girl was paraded naked in a Khyber Pakhtunkhwa village, after her brother allegedly held a pre-marital affair with somebody. During the incident, nobody helped or sheltered the girl.
The girl was forcefully stripped and paraded naked for one hour after goons wanted to punish her brother. The incident sparked a fire and the public demanded the perpetrators be caught. In a new revelation, allegedly, PTI's KP Minister Ali Amin Gandapur might have played a huge part in the incident.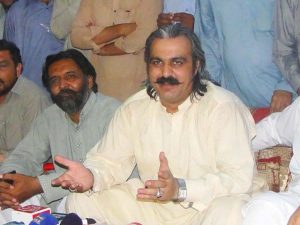 As per Pakistan Tehreek-i-Insaf MNA Dawar Khan Kundi, the logistics and physical support to the criminals who stripped the young girl were all provided by PTI Minister Ali Amin Gandapur. In a letter written to PTI Chairman Imran Khan, Kundi wrote:
"I visited the family a week before and they asked, in fact, requested, me to make sure that Ali Amin Gandapur, Revenue minister K-P, may be forced and asked to withdraw his support from the criminals," read the letter written to Imran Khan by Dawar Kundi.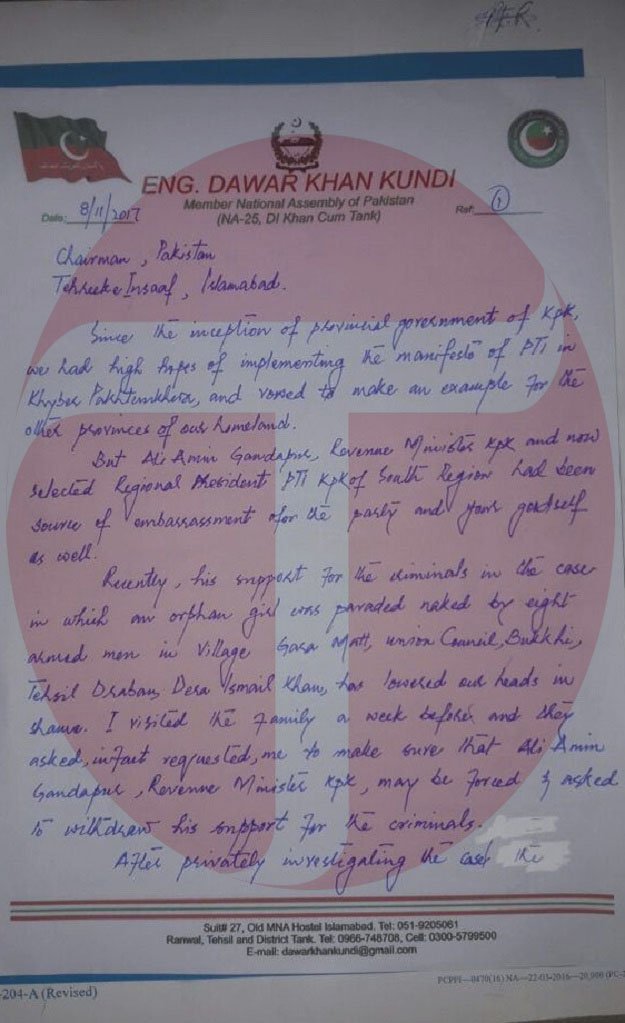 "The notorious activities of Ali Amin Gandapur are a source of providing a bad name to the party as a whole," Dawar wrote. "You must ask CM K-P Parvez Khattak to remove Gandapur from his ministerial portfolio and ask forgiveness from the bereaved family."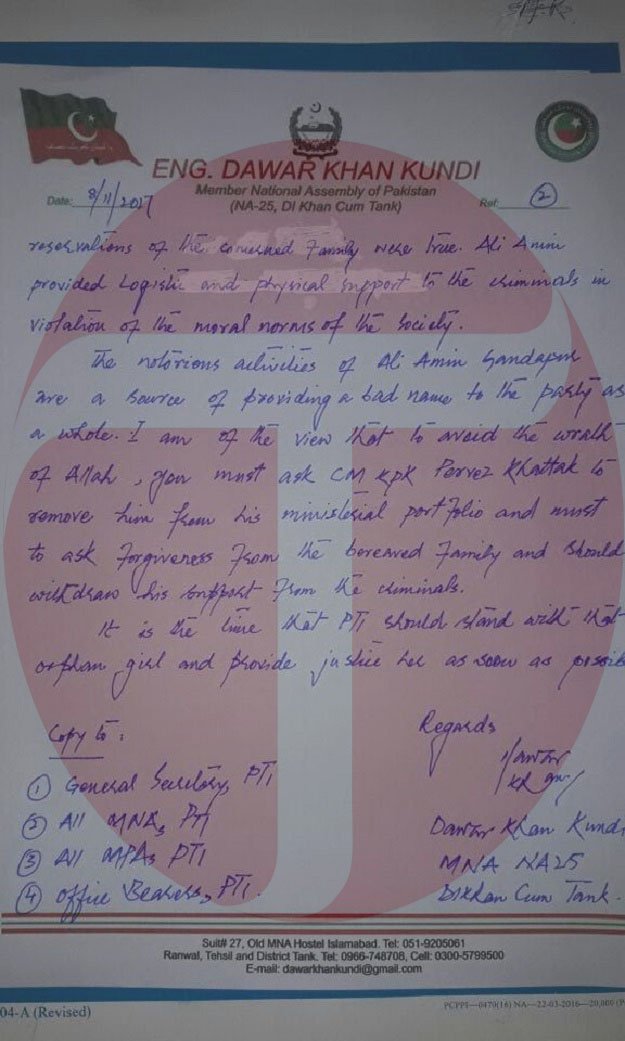 Dawar Khan Kundi concluded his letter to Imran Khan by saying, "It is the time that PTI should stand with that orphan girl and provide justice to her as soon as possible." However, on the other hand, Ali Amin Gandapur has vowed he had nothing to do with the incident, saying that if charges of his involvement are proved, he was ready to be hanged till death.
The confusion among different portfolio holders of PTI is causing a lot of problems for the Chairman Imran Khan. These allegations by an MNA on an MPA are not to be taken lightly, with the issue at hand also being an extremely serious one.