Pakistan and India, the story of two countries nothing short of an nightmare or something out of a fantasy tale. How two indigenous people fought together against a single force, and how they left each other right after. Ever since 1947, both India and Pakistan have remained at loggerheads and continue to spoil each others' happiness, whenever given a chance.
Although the general population of both countries does not care about the tension and politics that goes on between both the nations, regarding each other as neighbors and reaming for a day when crossing the border is not a hassle, there are many powers involved in the 'big game' that do not let India and Pakistan come to their potential.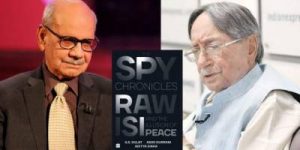 Recently, all this was revealed in a book that has caused an immense stir in the political scenario in the subcontinent. The book is titled The Spy Chronicles: RAW, ISI and the Illusion of Peace written by former ISI Chief Lt. Gen. Asad Durrani and former RAW Chief A.S Dulat. Two of the most powerful men once upon a time.
In the book they have revealed all sorts of stories and theories about how and why India and Pakistan never got close. However, one very strong quote that came from A.S Dulat speaking to NDTV about the book said: "Who could have thought a few days ago that President Donald Trump would be talking to the North Korean leader? We should also think out of the box, as Dr Manmohan Singh used to say. Roll out the red carpet and invite Gen Bajwa, and see what happens."
Tonight on Left, Right & Centre – 2 of the subcontinent's greatest spymasters – RAW's AS Dulat and ISI's General Asad Durrani in their first tv interview on their co-written book The Spy Chronicles – RAW, ISI and the illusion of peace. pic.twitter.com/MiDNm30og1

— Vishnu Som (@VishnuNDTV) May 21, 2018
Very rightly, Dulat gave an example of the North and South Korea truce, something nobody in the world had expected. If they can make amends and start new bilateral ties, India and Pakistan could have done so too. On this, Gen. Asad Durrani also said that there was a time when India and Pakistan were very close to establishing new ties, but the bureaucracies of both the nations spoiled the talks and put both countries in a dilemma, locking horns against each other once again.
Dulat, while speaking on the ties and Kulbhushan Yadav's espionage and capture by Pakistan, said:  "If Kulbhushan Yadav was actually a RAW operation and he was a RAW spy, then it's a pretty sloppy operation."