This post is also available in: العربية (Arabic) اردو (Urdu)
The thing about Pakistani food is that even if you haven't tried it, you will ALWAYS have the wish to do so, that too, in the most authentic and cozy environment. Tourists from all over the world take time out just to visit Pakistan and be a part of this delicious food journey.
One of the world's most famous food vloggers, Trevor James, The Food Ranger, hails from Canada but travels the whole world in a bid to find the most delicious food items across the globe. Recently, he visited Pakistan and was astonished by the authentic cuisines of the country, with the warmest of hearts of the locals.
After visiting Peshawar, Islamabad, and Waziristan, The Food Ranger made his way to Pakistan's largest province, Balochistan. Reaching the capital city, he tried some different street foods of Quetta, all which led to the grand finale, the 'kaddi kabab' or 'rice-stuffed lamb'.
He initially visited a breakfast place called 'Neymat Qada' in Quetta, which offered the BEST paaya and nihari, along with aalu cholay, puris and parathas he has ever eaten. Trevor was so impressed by the breakfast, he gave it a 10/10, which is huge for a place such as Quetta, which most of the Pakistanis still haven't been to.
After that, Trevor went to Kuchlak, a town adjacent to Quetta, famous for its lamb 'Rosh'. A tender piece of meat, cooked in its own fat and stew, eaten along with lentils, keema, and vegetables. On top of that, a glass of lassi, surely, 10/10 of that too!
Eating meat all day, Trevor still had time to achieve one of his biggest goals of life being a meat-crazy-eater. He got to watch the live process of kadi kabab, from selecting his own lamb to watching it cook and then eating it.
The process of making kadi kabab is very difficult and tedious. First, the lamb is slaughtered, then cleaned, after which masala is applied to its body. Then, rice with raisin and almonds are stuffed in its belly, before putting it in a deep-pit of coals to cook for 5 hours.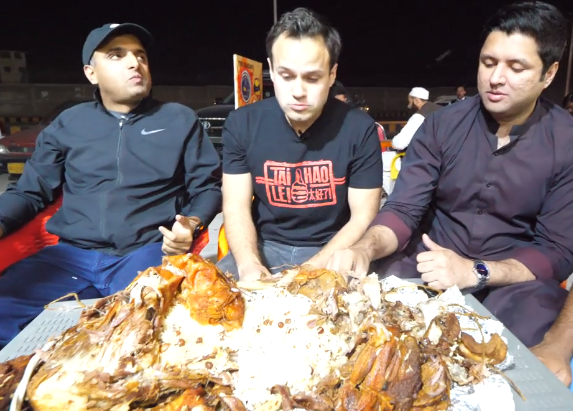 And then came the moment of truth, Trevor James was left awestruck when he saw the rice falling from the lamb's belly, the most tender meat he has ever eaten. He was all praises and WOWWWWWWWWWWW! for the dish, in his signature style. He called Quetta a 'meat heaven' and said it was the best part of his trip yet.
It is time that Pakistanis, before others, realize the worth of Balochistan and visit it to enjoy all the things that The Food Ranger and his friends did. Pakistan Zindabad, Balochistan Paindabad!