A lot of talk was going in Pakistan about whether the Senate elections would be carried out in time or not. There were also chances that the elections would be postponed for an indefinite period. However, all those rumors were put to rest a couple of days ago when the elections took place on time.
Senate elections took place in all 4 provincial assemblies of the country, and two members from Islamabad were selected as well. In Sindh, Pakistan People's Party took the lion's share of Senate seats, with producing a marvelous achievement in the election of Tharparkar's Krishna Kumari.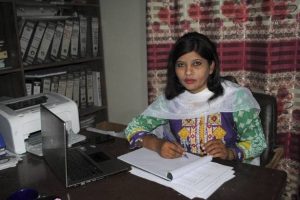 Krishna Kumari is a rights activist who belongs to the Kohli Hindu Community and belongs to Tharparkar. She was elected to the reserved seats for women, along with Sindh's Quratulain Marri. Kumari, while speaking to the Associated Press, said that it was an unthinkable achievement for her to reach the Senate and she was extremely proud of the feat.
"I will continue to work for the rights of the oppressed people, especially for the empowerment of women, their health and education," she further stated. Krishna Kumari became the second Hindu female senator ever, after Ratna Bhagwandas from elected from Sindh on PPP's ticket as well in March 2006.
Krishna Kumari's achievement is being highlighted because her story differs from all the other senators. Kumari was once a bonded brick laborer, who also spent time in her landlord's private jail in Umerkot, when she was a child. After being released from the private jail in a police raid, Kumari's parents invested in her studies and made sure that she did not suffer a similar fate as theirs.
From their on, sky was the limit for Kishoo Bai, as her parents call her. She dedicates all her success and growth to her parents, who made sure she reached the heights she has today. Kumari is a renounced civil rights activist in Sindh, mainly working in the area with most malnutrition cases in Pakistan, Sindh's Tharparkar.
This is how people on social media reacted to Krishna Kumari's senate win
Meet Senator Krishna Kumari Kohli, first Hindu Dalit woman to reach senate. Congratulations!
Only PPP can do this! 👍 pic.twitter.com/ojUpE6IPMI

— Saadia Afzaal (@SaadiaAfzaal) March 4, 2018
Highlights of Senate election

1. Krishna Kumari becomes Pakistan's first female Dalit senator
2. PPP swept Sindh Senate seats
3. PML-N backed candidates swept Punjab seats
4. Kamran Tessori lost
5. Maulana Samiul Haq lost
6. Ishaq Dar was re-elected

— omar r quraishi (@omar_quraishi) March 3, 2018
Sami-ul-Haq lost to Krishna Kumari (a Dalit woman) in the Senate elections today. Couldn't be more happier.

— Danyal. (@YarDanyal) March 3, 2018
Krishna Kumari Kohli from Sindh has become the first ever Hindu Dalit woman to be elected to the upper house of Pakistan's Parliament the 'Senate'. #Democracy #Equality #Feminism #Diversity #Dalit #DiversityandInclusion #SenateElections2018 #Senate #Pakistan #EmergingPakistan pic.twitter.com/RxyGkLij5f

— Emerging Pakistan (@dev9_) March 4, 2018