The power of social media is not unknown to the world. Pakistan is new to the ordeal altogether, and social media has been abused by bots and fake trends that can publicize things in minutes, defaming people for deeds they have not done.
Umar Cheema is one of Pakistan's most respected journalists. A member of the International Consortium of Investigative Journalists (ICIJ), Umar Cheema was the man who broke Panama Leaks' story in Pakistan, being the sole reason for Ex-Prime Minister Nawaz Sharif's disqualification. It was his research and work provided to the ICIJ that put Nawaz Sharif's name in the story of the century.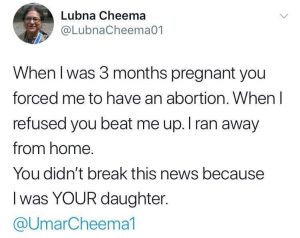 However, Umar Cheema, as a journalist, is impartial to news and works on any story he finds. It was Umar Cheema as well, who initially broke the news of Imran Khan's second and third marriages. However, the Pakistan Tehreek-i-Insaaf social media team did not take the news story of Imran Khan and Bushra Bibi's marriage story too well.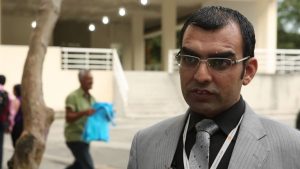 On Monday morning, a trend generated on social media under the hashtag #LubnaCheemaPregnancy started to go viral. In the trend, a fake account under the name of Lubna Cheema laid down allegations on Umar Cheema, that she was his daughter and the journalist forced her to get an abortion, as her baby was out of wedlock. This trend was fake from the start as Umar Cheema does not have a daughter named Lubna, and neither is she that told.
This is how things went down on Twitter under the fake trend of #LubnaCheemaPregnancy
Such trends like #LubnaCheemaPregnancy should not be encouraged and be followed; it is their own family matter if @UmarCheema1's daughter was pregnant after 3 months of Nikah or before the nikah or if it was proper 9 months pregnancy; totally personal thing guys

— Jamal Nasrullah (@desi_champ) March 5, 2018
I condom this trend #LubnaCheemaPregnancy

— عمران لالیکا (@IALalika1) March 5, 2018
A fake story of Umar Cheema's daughter is viral on SM, She is so clever Ma Sha Allah that she never allows sex without protection , I condemn this hashtag. #LubnaCheemaPregnancy

— MNA (@Engr_Naveed111) March 5, 2018
To all those who saying this is Lubna Cheema (Umar Cheema's daughter), FYI this is Kim Kardashian not lubna cheema
Stop spreading false news.#LubnaCheemaPregnancy pic.twitter.com/WrNuyx6Kgg

— بابا جیون ™ (@Farrukh_Shahzad) March 5, 2018
Will Jang/Geo group help Lubna Cheema get justice? #LubnaCheemaPregnancy

— Mariam's Madness (@mariamsmadness) March 5, 2018
Was it about #LubnaCheemaPregnancy https://t.co/kCFWpU8ykc

— عمران لالیکا (@IALalika1) March 5, 2018
Meanwhile:
Umar Cheema is badly trolled and fooled on "Whats App" by an Insafi 😹😹😹🤣👇@UmarCheema1#LubnaCheemaPregnancy pic.twitter.com/GnphqeK3VT

— Trojan Fixer Baba (@AatifAzio) March 5, 2018
By Tweeting Repeatedly
"Don't Trend " "Don't Trend"
Unfortunately All People are included in Spreading this Rubbish Trend…

— Misbah Lak (@Misbah_Lak) March 5, 2018
Responding to the appalling trolling, the journalist tweeted an online warning, which said: "All those busy in hurling abuses through phone calls/social media after the appearance of my story, are being noted. They will be reported to FIA Cyber Crime Wing for further action."
Actions like these make us realize that anything is possible in Pakistan. A well known and seasoned journalist too can be shamed at the hands of fake accounts on social media.