Buying a property in Karachi isn't easy. After paying loads of money, people don't know if they got the piece of land or not as they don't trust property dealers. In past, we have seen big names like Bahria Town Karachi and Eden Housing Scheme where people invested and at the end of the day, they lost their money which they have saved after working hard day and night.
Last month, Deputy Director Anti-Corruption Establishment East Zone Karachi Zameer Ahmed Abbasi shared a list of housing schemes and societies which were marked as 'illegal' because of 'legal requirement' in District Malir East Zone. After that, the National Accountability Bureau (NAB) revealed about handling 44 cases of housing schemes scams in Karachi.
See The Complete List Here!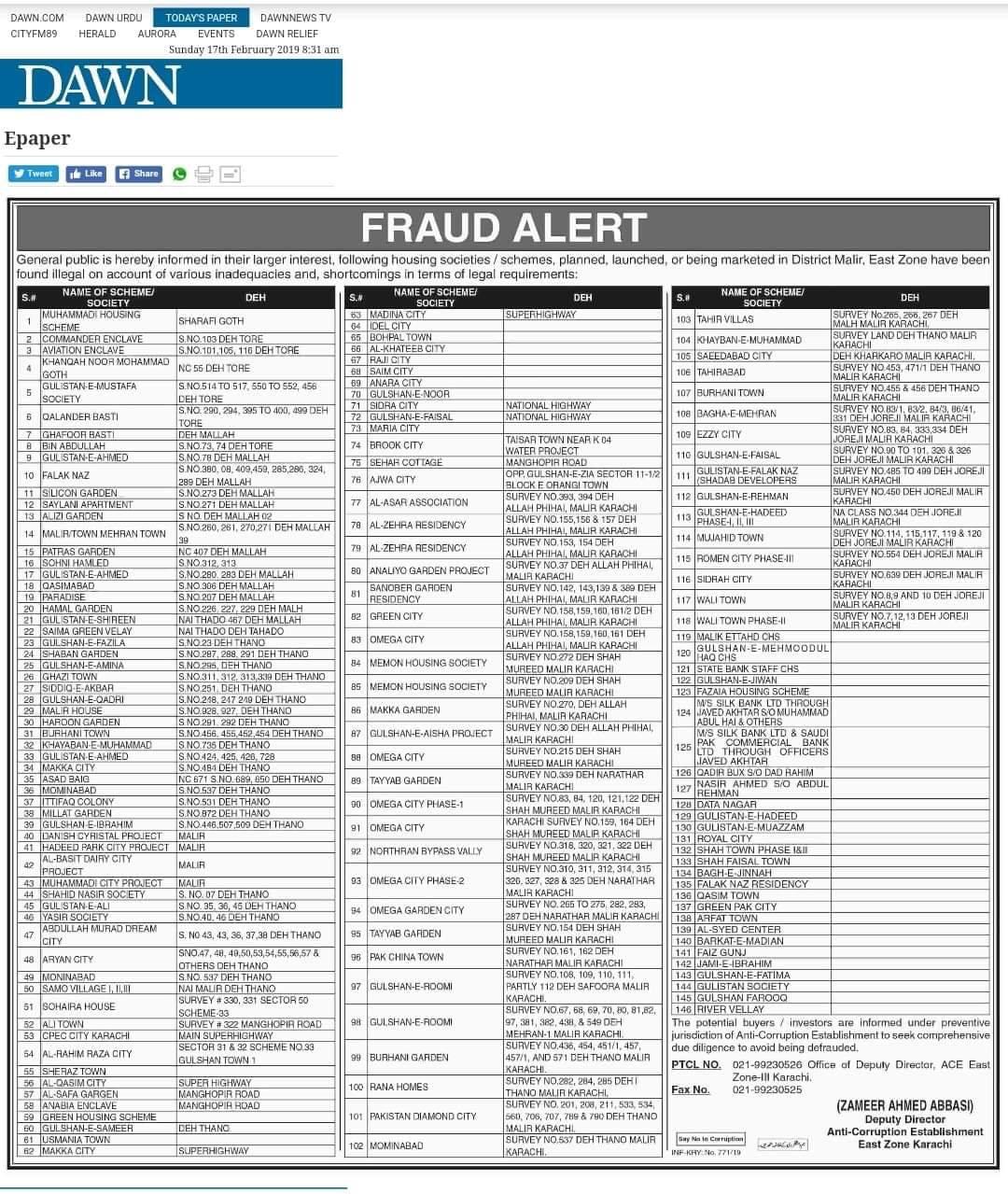 NAB shared a press release in which the details have been shared with the public. According to the press release, there are thousands of people in Pakistan who are deprived of their rights because of officials of the Sindh Cooperation Department.
"The accountability bureau is handling a total of 53 housing scam cases from across Sindh. Out of 53 such cases, 12 are under inquiries, 19 under advanced stage of investigation; whereas 22 references are under trial at accountability courts of Karachi and Hyderabad. Out of these cases, 44 societies are located in Karachi whereas nine in Hyderabad, Mirpurkhas, Jamshoro etc"
To avoid NAB reference, Bahria Town offered to deposit Rs200 billion to avoid legal proceedings for acquiring land illegally for its three projects in Karachi, Islamabad, and Murree. Justice Azmat Saeed turned down the offer and said to the Bahria Town Counsel that 'A fine of Rs285 billion had already been imposed on the real estate developer in 2004. Three separate verdicts had been passed against Bahria Town so the payment offers should also be separate", said Justice Azmat Saeed while hearing the reference.
Bahria Town Counsel offered to increase the payment to Rs250 billion and on listening to this, Justice Azmat Saeed warned him that apex could ask NAB to file a reference. This behavior of owners of housing schemes prove is totally unacceptable for the people who have paid numerous installments for the sake of their home.
Let's see if NAB would take serious actions against these fake housing societies.