Who in the world doesn't know about how Indian media is sharing fake news about Pulwama terror attack and conflicts on the border? Not only Pakistanis, but many Indian sensible journalists are also slamming Indian news channels for spreading fake news and creating a fuss about everything.
Among those serious-minded people, Indian filmmaker and father of Pooja Bhatt, Mahesh Bhatt is the one who has criticized Indian news channels for provoking the masses in this situation. In a recent tweet, Mahesh Bhatt has condemned the coverage of Indian channels for escalating the tension between the two countries.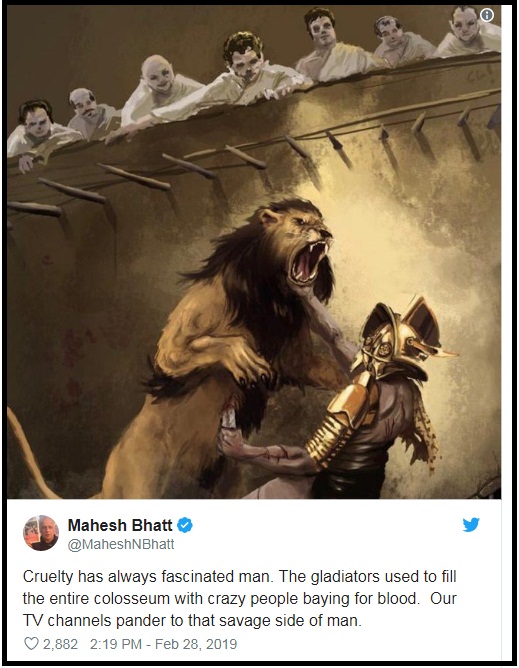 While Twitteratis are busy making fun of Indian reporting style, some of the notable Pakistanis are sharing their thoughts too on social media. Pakistani lawyer and human rights activist Muhammad Jibran Nasir is sharing a couple of samples of how Indian media is circulating misinformation among the public. Recently, he shared a video from his official Twitter account in which a reporter was questioning an old man about the Pakistani airstrike to which the old man replies…
Wait. Listen To The Old Man's Reply By Yourself!
Renowned Indian Channel Zee News Ran A Picture Of F-16 Naswar To Prove Their Point! Unbelievable!
Senior Pakistani journalist Naimat Khan shared the picture of 'naswar' with a witty caption but Indian channel took it seriously!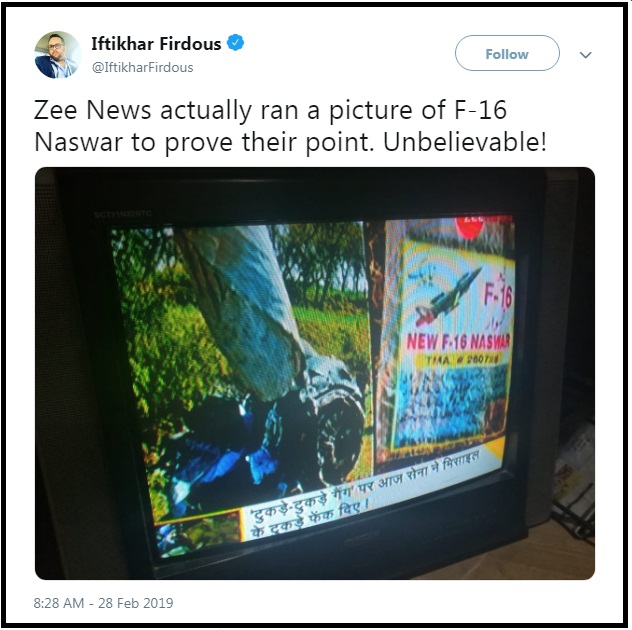 Want More? Go Ahead!
An Indian reporter, Shrivardhan Trivedi termed Indian Air Force pilots as "Baahubalis", his body language and the overall description of a so-called air strike by India has made him a laughing stock in Pakistan. His dressing sense, dialogue delivery and the way he described the totally fictitious air strike have had everyone laughing in Pakistan. But the way Pakistani news anchor and broadcaster Faisal Qureshi imitated Shrivardhan Trivedi is priceless! For those who didn't watch Trivedi's Andhere Ko Cheerti Hoi Chingari wali reporting, please watch!
Listen To 'Bahubali Ki Sansani Kahani'!
And Now It's Faisal's Turn! Just Look At His Expressions, People!
And Indians Want These Journalists To Be Admitted In 'Mental Hospital'
Hosh Ke Nakhun Lo Bhaiyyo!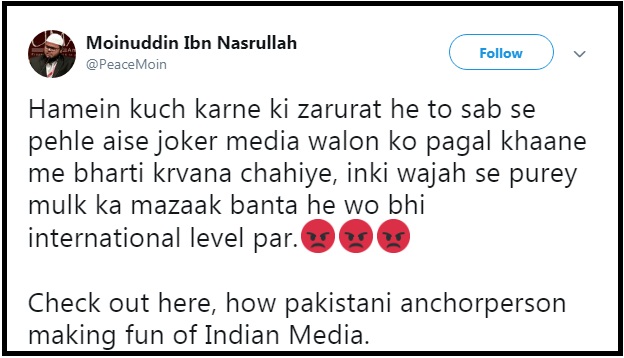 You Nailed It, Faisal…

So, Are You Comparing Trivedi With Aamir Liaquat Or Faisal Qureshi?

This Is Actually A Good Idea!

So Much Detail!

Have you also came across some 'Sansanati Hoi Khabarain' from Indian news channel? Share them with us in the comments!