Yesterday, a detailed report on a PAF pilot was posted by an Indian news website News Laundry in which the author told how an individual's Facebook post was turned into a movie script.
According to Indian media hub News Laundry, a London-based lawyer Khalid Umer posted on his Facebook account that on 1st March 2019 when Pakistan's Prime Minister Imran Khan released IAF pilot Abhinandan Varthaman as a 'gesture of peace', the son of Air Marshal Waseem Ud Din Wing Commander Shahzaz Ud Din succumbed because of his own countrymen. Khalid also wrote that Shahzaz Ud Din was flying an F-16 and Abhinandan knocked it before his own Mig 21 was overpowered by Pakistani aircraft and PAF took him into custody.
Without mentioning the source, Khalid Umar posted that the Pakistani pilot ejected his seat in Pakistani occupied Jammu and Kashmir where 'Kashmiris' mistook him as an Indian pilot. When Shahzaz was identified as a Pakistani pilot, they took him to the hospital – but it was too late.
Read Khalid Umar's Complete Post Here!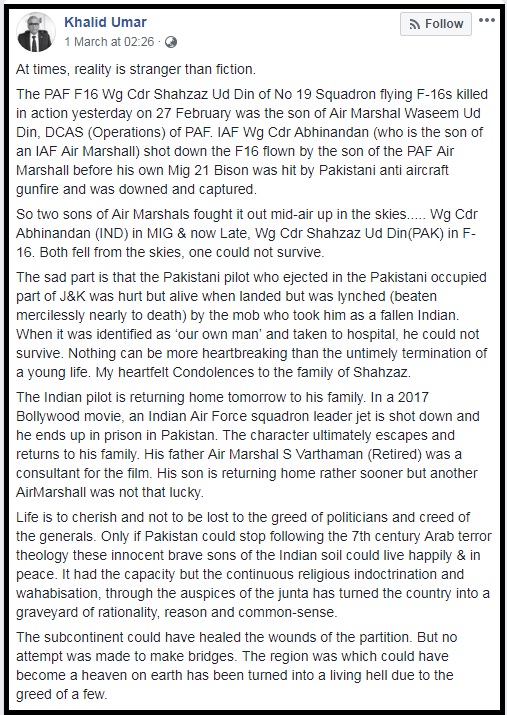 To verify the claims, News Laundry contacted Khalid Umar and asked about PAF pilot Shahzaz Ud Din. He claimed that he received the information not from a single source but from multiple PAF sources. "My sources in PAF informed me that the F-16 was flown by Shahzaz-ud-Din. It was knocked down by MiG 21 of the Indian Air Force in the air," told Khalid Umar to the Indian news website. He added that Pakistani authorities would never accept this.
Sharing the details about Shahzaz-ud-Din family, Khalid told News Laundry that Shahzaz was one of three sons of Air Marshal Waseem-ud-Din, who had retired from the PAF. He claimed this was also confirmed to him by Air Marshal Waseem-ud-Din's family.
It's not over yet!
News Laundry investigated to find the real facts.

Here is what they found upon researching!
Air Marshal Waseem-ud-Din has two sons only – Waqar-ud-Din and Aleem-ud-Din! And they've never served in the Pakistan Airforce!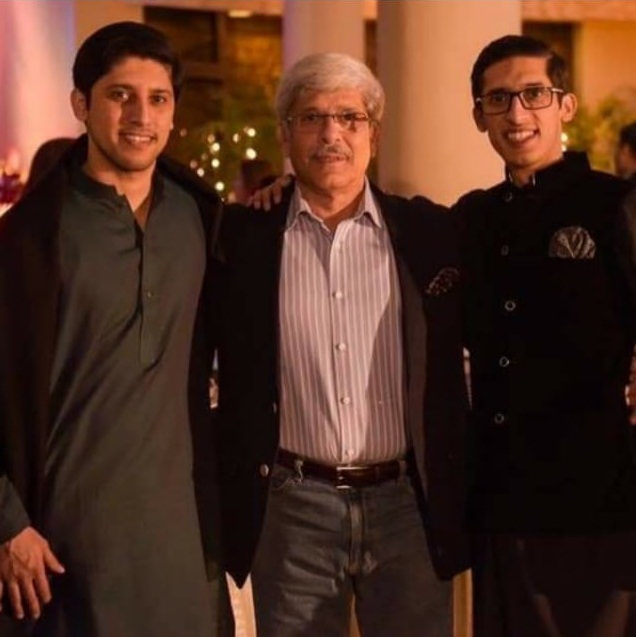 The picture of the pilot which is being circulated on social media is not Shahzaz-ud-din, he is Group Captain Agha Mehar, who has never stepped inside an F-16 in his career!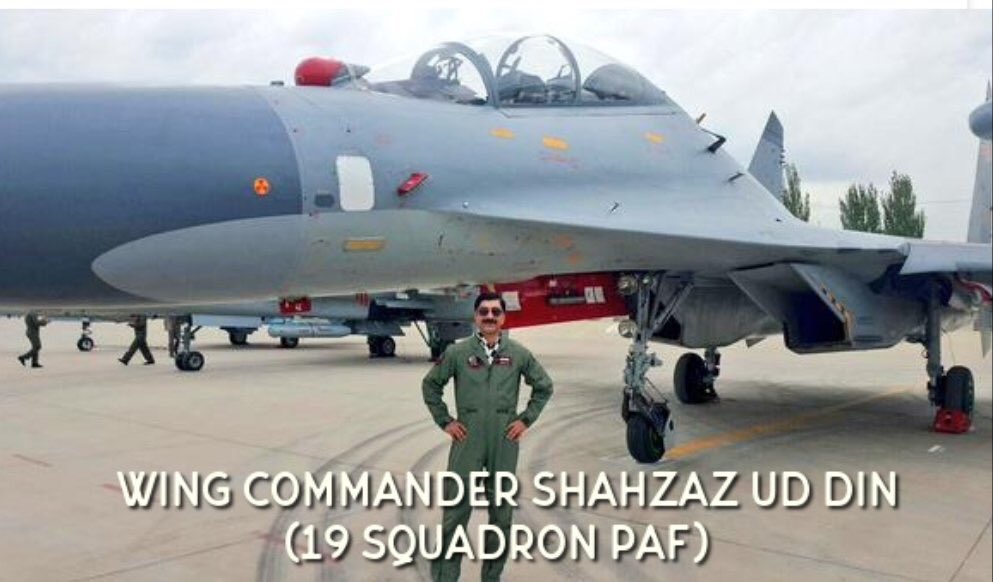 A Dubai-based family friend tagged the Air Marshal's wife in a Facebook post and wrote that Waseem-ud-Din has two sons, who are alive!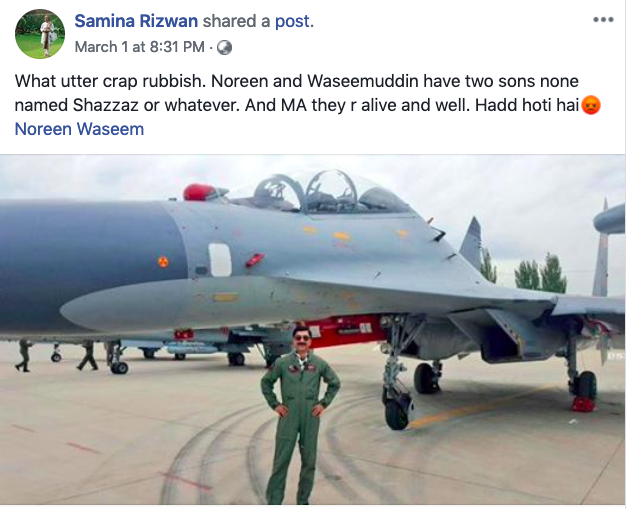 The details provided by Khalid Umar is being used by various media publication without any verification and it has been claimed by the Indian government that their pilots had knocked down a Pakistani F-16 pilot! The people are raising questions on the credibility of Khalid Umar as well who has posted false news about the honorable institution of Pakistan.
However, there are two months left in general elections in India and Indian Prime Minister Narendra Modi wants to retain this atmosphere till May. Let's see after trespassing into Pakistani airspace and waters, getting a befitting reply from Pakistan forces, what are their next plans!