The elections era of India has now come to an end and the country was no less than a chaotic site since last month. The two major political parties of India; Bharatiya Janata Party (BJP) and Indian National Congress are on a war for authority and the vote counting is near to begin. Supporters of both parties took to social media and showed valuable support for their favorite. Hashtags #ModiHiAayega and #RahulBadlegaIndia became the hot trends in the country and Twitter served as the most opinionated socializing platform.
Following the electoral hype prevailing in India, PM Narendra Modi even added a prefix 'Chowkidar' to his name on his official twitter handle. Previously, Rahul Gandhi had taunted him with the phrase 'Chowkidar Chor Hai' and the prefix addition to his official handles was to encounter Rahul's wit. Many other big names of the country also added the prefix in their names to show their support for the PM.
Here's a preview of his official Twitter handle!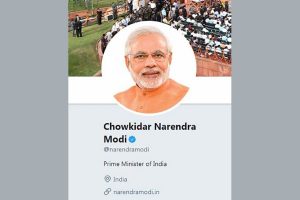 India's Lok Sabha Elections 2019, is turning out to be in the current Indian PM's favor again but with an even bigger majority. As the final counting of votes is due on May 23rd, the current exit polls show that Modi's bars are high in winning the elections. Chowkidar Modi's BJP led National Democratic Alliance (NDA) is predicted to cover the 339 to 365 seats from a total of 545-member lower house of the parliament. Whereas, Rahul Gandhi's United Progressive Alliance (UPA) is said to be at the numbers ranging from 77 to 108. The prediction was done by the India Today Axis exit poll last week.
The poll began a heated argument among the supporters of both parties and social media is all criticism and hopes since then. Indians are not taking the situation well and are reacting to the prediction differently.
Die heart Chowkidar fan spotted!
We are waiting Sir…….#ModiHiAayega pic.twitter.com/b1yx21VFTq

— Rajeev Yadav (@rajeev476) May 19, 2019
Ye bhi theek hai!
Just for fun sir #ModiHiAayega @narendramodi @SirPareshRawal @BJP4India @AmitShah pic.twitter.com/HeZxBGkdcR

— Prashant Tailor (@preet_mtv) May 20, 2019
All the way from India! *Predicted Results*
💪 This is proved….that 130 Cr people of INDIA have blessed Modiji…..✌️ Thank you INDIA….💪#PhirEkBaarModiSarkar #ModiHiAayega 💪🚩 pic.twitter.com/0RHcz8e539

— 🚩 Chowkidar HaRsH 💪🚩 (@Harshad73319041) May 19, 2019
This video of Rahul Gandhi went viral and people are praising him for this act!
Human side of a person that cannot be choreographed. #RahulKaChallenge

— Vikas Malhotra (@primate2sapien) May 11, 2019
Difference between a literate and an illiterate, maybe?
Difference Between Both PC!@RahulGandhi Answered 15 Questions in 20mins!
And Mister @narendramodi delivered just A Speech of 50mins in Press meet!
& Only Amit Shah talks..#ModiPress #RahulKaChallenge pic.twitter.com/PV0sxeKDL2

— Shishupal Kadam (@RealShishupal) May 17, 2019
This guy stated a fact!
I must say this, beyond the PR campaign and BJP IT cell propaganda, Rahul is a much much more mature leader than Modi is, anybody who follows both closely knows this much. #CloudyModi #RahulKaChallenge #LokSabhaElections2019 pic.twitter.com/g44qpACsVP

— Mridul Negi (@gooner_neg) May 13, 2019
In the reactions race, one more name was added who is believed to be the doppelganger of Chowkidar Narendra Modi. Meet Abhinandan Pathak, who is running independently in the 2019 elections and doesn't trust the PM anymore. Watch the video below!
Abhinandan Pathak and his uncanny resemblance with Narendra Modi!
"I am the original one, Modi is my lookalike."

Abhinandan Pathak is running against his doppelganger in the #IndiaElections2019 – the country's prime minister. pic.twitter.com/vSQv9eQiF0

— Al Jazeera English (@AJEnglish) May 15, 2019
For now, Modi getting re-elected have much more high chances than Rahul Gandhi's win. Indians are hoping for the country's better future and that the deserving one wins. No one knows the actual result until the official vote count breaks out.
Have something to add to the story? Comment below!