A concept derived from the West, something in Karachi happened that has become the talk of the town on social media, and people cannot stop themselves from saying: "Oh my God!" – Yes, we're talking about the infamous 'dirty couple swapping night' advertisement that had gone viral on social media a few days back.
The event, which was advertised on Facebook, became the reason for the mastermind's arrest. The mastermind of the said event was demanding Rs. 25,000 per couple as the entrance fee to the event, where they would be able to enjoy a host of different 'activities'.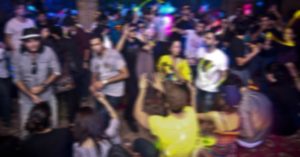 A couple of days before the event was to take place, Clifton Police showed extreme diligence and trapped the perpetrator Arsalan Qamar through a decoy who wanted to purchase tickets for the dirty night event. Upon the organizer's arrest, SP Suhaee Aziz, the officer responsible for the moral crackdown, revealed grave details of the 'Dirty Night' couple swapping event, which might shock you more than you expect.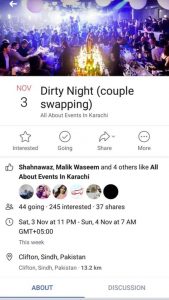 "The police often tries not to interrupt or intervene in the personal matters of people. We're not here for moral policing. However, when the details of the event went viral on social media, it was our job to address the issue," said Suhaee Aziz.
"We put forth a decoy who purchased two tickets from the organizer and from there on we were able to pick the organizer up with credible evidence." When she was asked about the details, she revealed that hundreds of people had purchased tickets for the Dirty Night event in Karachi.
In the event, people would bring their spouse or partner along and could swap their partners for others who too had purchased tickets. The event was to be held in a posh locality of Clifton or Defence. The place where the party was to be organized, included a bar, a DJ and even a swimming pool.
SP Suhaee Aziz also revealed that the same person, Arsalan Qamar, had successfully organized a similar couple swapping party back in 2011. That gave him the confidence to organize the same party on a larger paradigm.
People on social media were of different opinions. Some were enraged that such a thing was happening in our society – slandering the liberal goal. Others, however, were indifferent; stating that it was the people's choice, of what they wanted to do, wherever they wanted to do it. Hundreds of people had been involved in this immoral act, which thankfully, was reverted by the police.