What started as a 'search operation' to find anti-Kashmir elements, Indian troops in Indian Occupied Kashmir have one upped their previous episodes of inhumanity, as over 20 young innocent Kashmiris have been killed by the forces.
The Indian Army in Occupied Kashmir conducted a search raid operation to find Mujahideen, but their agenda was clear even before the operation started. It had been a while since atrocities in Kashmir had simmered down, but that time proved too long for the Indians, as it was time to show another episode of their barbarism to the world.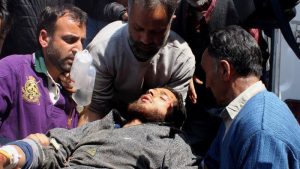 Even though the Indian forces claim that these Kashmiri youngsters were killed during gun battles, most people believe and say that Indian Army raided the houses of innocent Kashmiris and singled out 20+ people who were then taken into custody and later murdered upon orders from the higher ups.
If even for a moment, we believe the point of view of the Indian forces, about 20 youngsters being murdered during gun battles; somebody from the Human Rights Commission needs to ask them, why would anyone open fire during a search operation, that too on the Indian Army which actually holds the whole area forcefully? Their misrepresentation of facts is not just alarming, but also shameful.
Apart from these 20 deaths of young Kashmiris, another 100+ have been seriously injured in the operation, which includes helpless women and children. Since the deaths and injuries, protests have erupted throughout Kashmir.
20martyred in South Kashmir Shopian,Islamabad districts of occupied Kashmir bloodbath today, Indian occupation forces martyred 20 Kashmiris,300 injured and destroyed over 5 houses and still counting..worst day of state terrorism in Kashmir valley

— Khawaja M. Asif (@KhawajaMAsif) April 1, 2018
AJK Minister Iftikhar Gilani announced that a condemnation day would be observed throughout AJK and other areas, in retaliation to the brutalities of the Indian Army.
"We appeal to the international community pressure India into giving access to fact. It is time for the people of AJK and Pakistan to take to the streets against Indian state terrorism, suppression and continuous killing of innocent Kashmiris," said Altaf Bhat, an All-Parties Hurriyat Conference Leader.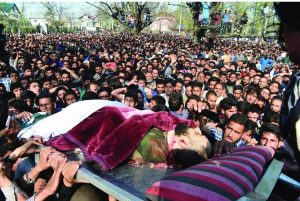 These acts of state terrorism by the Indian forces in Kashmir must be condoled by the whole world, including the United Nations which had previously agreed on sending a fact-finding mission to Kashmir. However, the insignificant help from the Indian government in letting the mission do their work in Kashmir proves how scared and vulnerable they are when it comes to their atrocities being open to the world.
What the Indians do not realize is that whenever they pull off a publicity episode such as this, where they take innocent Kashmiri lives, is that for every life taken, 100 new mujahids are created within the boundaries of their occupied land.