This post is also available in: العربية (Arabic) اردو (Urdu)
Pakistan has immensely talented individuals who are indulged in making their own mark in the world. Be it any field or any platform, the young skillful talent of the country is praised for its amazing abilities. Representing the country on an international forum in front of a totally different audience to winning hearts around the globe, young Pakistanis have done it all.
This young lady recently topped the most difficult examination of Pakistan and everyone is proud of her.
Meet Shanza Faiq, who left thousands of other students behind and topped the Central Superior Service Exam commonly know as CSS Exam. The results came out last year and among a large number of sharp-minded people, Shanza took the lead. Her tremendous achievements and consistent hard work made her achieve this big and definitely, the whole of Pakistan is proud of her.
Also read: Meet Bhagwandas Kohli — A Pakistani-Hindu Law Student Who Aspires To Help The Poor For Free!
A graduate of the most prestigious institute of Pakistan LUMS which is short for Lahore University of Management Sciences, Shanza Faiq grew up in Pakistan's Punjab side and completed her education from there. She has recently received the 'Prestigious Women of Pakistan Scholarship' in Warwick and is currently employed in the United Kingdom (UK).
LUMS announced Shanza's achievement on their official website!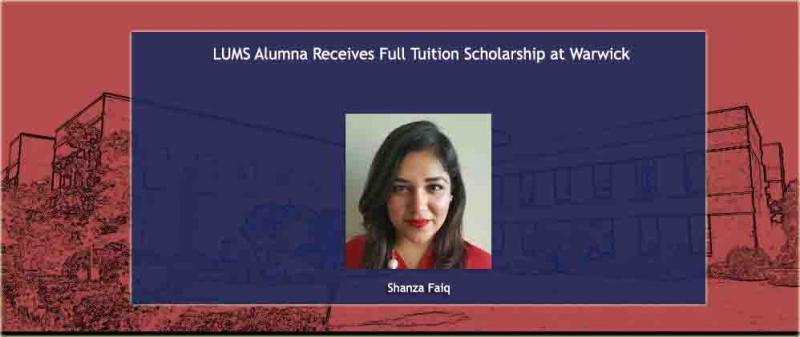 The University of Warwick hired her as Graduate Research Assistant. Previously, Shanza has worked with several government organizations like Foreign Services of Pakistan (FSP), Attorney General Pakistan's Office and others. She was even selected among the two females to work for the Pakistan Youth Parliament from Islamabad. Talking about writing, Shanza has even written articles for Dawn.
Shanza seeing how human rights are abolished in Pakistan wants to change it for the better. Now, she's aspiring hard and striving to fulfill her longtime wish of becoming a human rights lawyer. Today, she stands proud, having topped Pakistan in the country's toughest exam and becoming a source of inspiration for millions!
The other two who hailed second and third position in the CSS exam are also from Punjab. Similar inspiring stories have gone viral in the past also and many more will come. As Imran Khan said that the young talent of this country has the immense capability to make it great again and it does seem true. Hopes are high!
Got inspired? Let us know in the comments below!