Finally, the general elections of 2018 can be carried out on due time, thanks to the consensus between Prime Minister of Pakistan Shahid Khaqan Abbasi and the leader of the opposition, Syed Khursheed Shah. Among the handful of nominees, the duo reached uniformity on the name of a member of the judicial branch.
The caretaker Prime Minister of Pakistan, till the general elections and selection of a democratic premier, will be the former Chief Justice of Pakistan, Justice Retd. Nasir-ul-Mulk, a man who many think was the perfect choice among nominees which included Maleeha Lodhi, Shamshad Akhtar, Abdullah Haroon and others.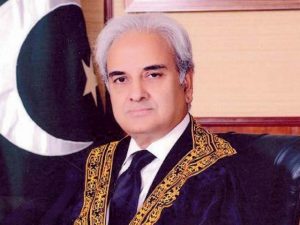 The huge announcement was made by Opposition leader Khursheed Shah at a press conference in Islamabad following a meeting with the incumbent Prime Minister of the country. Speaker of the National Assembly, Ayaz Sadiq was also present on the occasion. PM Abbasi stated that there was no one present who would object to the name of Nasir-ul-Mulk as the caretaker premier of the country.
"All the names under consideration were credible. Every name was discussed, and this name was decided upon," said PM Abbasi. "His role as a caretaker PM will be in favor of the country and the democratic process."
The leader of the Opposition, Khursheed Shah, who took his time on selection a neutral candidate, said: "We have chosen his name on the basis of merit. We took our parties into confidence and decided upon this name. We have chosen his name on the basis of merit. We took our parties into confidence and decided upon this name. We have made a democratic decision. I am thankful to the PM [and] to the speaker for making this decision with patience, setting aside emotion.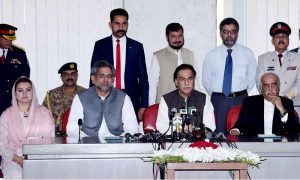 The name of the person I would like to present is very respectable.  The name is Nasirul Mulk, who has remained a chief justice. He has played a historic role ─ in the judiciary and when he was a lawyer. I am hopeful that God will give him the passion and courage to successfully conduct free, fair and impartial elections in Pakistan on July 25, 2018."
Nasir-ul-Mulk is thought to be a very honest, diligent and quiet person, who does not meddle in affairs he should not. Politically woke, Nasir-ul-Mulk is a great choice to carry out the 2018 general elections under, as he is impartial and does not believe in bias. It would now be up to him to make sure that no controversy erupts in the 2018 elections, as Pakistan has seen enough sit-ins at the hands of 'pre-poll rigging' and 'fixed elections'.