Pakistan is a rich land that is blessed with everything but the political looters haven't left much till now. Irrespective of their political parties, everyone took whatever they could out of out of the land and then chanted the slogans of serving this homeland. Each of the citizens has had enough of their drama to act nice and then show their real faces after they get to the desired seats. Recently, our "mujhey kyun nikala" group tried to steal yet another thing, it was a video by a hard-working vlogger, Irfan Junejo.
@pid_gov hello jee, your YouTube channel stole clips from my Naran video. Just wanted to tell you it's wrong. https://t.co/NLHuV2wlza

— Irfan Junejo (@irfanjunejo) February 1, 2018
Ifran is counted in the list of those credible people who worked hard and used their skills to create original content and made people fall in love with it. Some days back, he uploaded a Snapchat story showing his concern over his video that was stolen by the Government of Pakistan's Youtube channel named "Family Friendly Activities in Pakistan". Our beloved Government gave courtesy to him but forgot the basic copyright rules that they have to take permission first.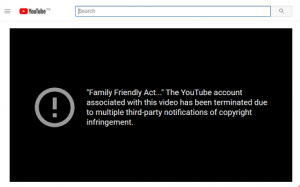 After him, a series continued of numerous people who also realized that he wasn't the only one who became a victim of it, there were others also. However, in response to the number of appreciation that Junejo was receiving, he explained through his Snapchat story that,
The account was not terminated due to my copyright claim. a lot of other people saw their work stolen in their videos and YouTube shut down their account. My claim wasn't even accepted by YouTube. Stealing other people's intellectual property by calling it promotion and exposure is not new to content creators.
When he found out…
My government is stealing my videos. Please advise. @TeamYouTube https://t.co/NJQVw1ZJ5Q

— Irfan Junejo (@irfanjunejo) February 1, 2018
He added,
My work has been stolen by news channels and Facebook pages without my permission before but I can't keep quiet when the government starts doing it as well. Adding insult to injury, they commented that everyone should be proud that GOP is crediting them and they're playing a part in promoting a softer image of Pakistan. This was their comment on the video that has now been taken down by YouTube, 
JUNEJO vs GORMINT (My side of the story) https://t.co/N3QBSJ8hi9

— Irfan Junejo (@irfanjunejo) February 2, 2018
In response to the claims made by many, the Government came in defense and said that their Youtube channel is solely for the purpose of portraying a good image of Pakistan. Although, Youtube didn't agree with their false statement and took down their video due to multiple third-party notifications of copyright infringement.
The Coordinator/Focal Person Social Media Cell Govt of Pakistan, Zaigham Abbas said that "We gave him video credits in the description of the video and we are promoting the work of local photographers and videographers."

After all of the blame game, Junejo replied by saying that, " If they would have taken permission from him then he would have made a better video for them [Pakistani governement] but it's wrong to steal somebody's intellectual property and even worse to then defend it by saying everybody should be proud of it."
Hello jee @pid_gov, now that your account has been reinstated by YouTube can you please not use other people's videos without prior permission again. I'd be grateful. 🙏

— Irfan Junejo (@irfanjunejo) February 2, 2018
Well, well…
Just got a call from @pid_gov. They were very kind and courteous. Assured me they'll look into the matter and may be even collaborate with me in the future. Dow bhaiyon main misunderstanding hogayi thi bas ✌️

— Irfan Junejo (@irfanjunejo) February 2, 2018
Hard luck for the Government, maybe the previous year and the upcoming ones are not good for them. Almost everything is going against them. They better be careful and watch out before taking any step.