Every Pakistani kid these days either wants to be a doctor, engineer, a bureaucrat or have a career in the country's armed forces. Parents who want their children to be a part of the latter, often send them to military boarding schools, such as the numerous Cadet Colleges of the country.
Most students from these Cadet Colleges then find their way into the armed forces through their ISSB test, for which, the Cadet College prepares them beforehand. However, sometimes, the punishments directed on the kids, are extra-institutional and non-corporal.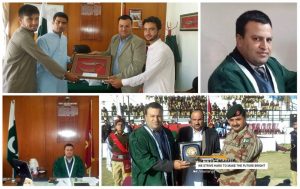 A case of high severity has erupted form the Cadet College situated in Mastung, Balochistan. The other day, a video went viral on different social media platforms, which showed the students taking a severe beating at the hands of their seniors, who are no more a part of the college. The children could be seen being beaten with sticks as a form of punishment.
After the video went viral, parents of the children from Grade 10, who were taking the beating, filed an FIR against the principal of the Cadet College with the Judicial Magistrate of the district. Furthermore, the Deputy Commissioner of Mastung, Jabbar Jatoi, was also taken in loop before formal proceedings began against the principal.
The case was taken up in the Balochistan High Court by Justice Meskanzai, who made sure that Javed Iqbal Bangash, the principal of the college was arrested. It has been known through sources that the children had misbehaved with the principal, and on that note, he ordered the seniors, who were to leave the college soon, to give the 'students a beating they would never forget'.
Students who were seen beating children in the video have been recalled from their hometowns and have been arrested as well. According to the students at the College, this is not the first time they have been punished in such a manner. It is a continuous practice carried out by the principal and his sub-ordinates, whenever the children do something wrong.
Furthermore, it has also been learnt that inside the college, many loopholes exist. Children are often forced into performing sexual favors on seniors and if they do not do so, similar punishments are incurred upon them. As per Justice Kakar, the incident has troubled  parents of the students enrolled at the college and this indeed, is a dark mark on the reputation of Cadet Colleges all around the country.