The recent political condition of Pakistan is no less than any jest. From opposition parties throwing their filth on the governing party or be it the governing party who seems shaken on the country's economic stability, it surely has served as a tensed comedy. Unfortunately, in this blame game, the Pakistani awaam has always been the affected ones, in every era, but this time, they have their hopes tied to Imran Khan and his 'Naya Pakistan'.
According to the reports, Chairman Pakistan People's Party (PPP) Bilawal Bhutto Zardari, is said to be hosting a grand iftar dinner for other opposition parties leadership on Sunday. The dinner was decided later after PPP's core committee took a decision to hasten up the efforts to start an anti-government movement right after Eid-ul-Fitr.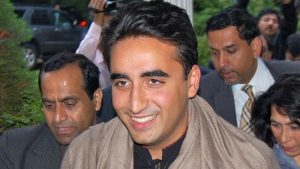 It is believed that the party Chairman has called the daughter of for disqualified Prime Minister's daughter Maryam Nawaz Sharif who has reportedly accepted the invitation. Fazal ur Rehman, Siraj ul Haq, Mahmood Achakzai, Asfandyar Wali Khan and several other big names of Pakistan politics are also invited.
Earlier this week, PPP Chairman Bilawal Bhutto Zardari called a meeting of the party's core committee in Zardari House, Islamabad. Party leaders including Qamar Zaman Qaira, Raja Pervaiz Ashraf, Yousuf Raza Gillani, Nayyar Hussain Bukhari, Farhatullah Babar, Rehman Malik, Naveed Qamar, and Humayun Khan were present in the meeting.
Here's the official tweet:
اسلام آباد: پاکستان پیپلزپارٹی کور کمیٹی کا اہم اجلاس زرداری ہاؤس میں جاری

چیئرمین پاکستان پیپلزپارٹی بلاول بھٹو زرداری اجلاس کی صدارت کررہے ہیں

اجلاس میں سید یوسف رضا گیلانی، راجہ پرویز اشرف اور نیر حسین بخاری شریک pic.twitter.com/rIu8MZuyrG

— PPP (@MediaCellPPP) May 17, 2019
To launch the anti-government movement decision after Eid-ul-Fitr was taken with mutual consent of the party's leadership. The movement would be against Pakistan Tehreek e Insaf (PTI) government policies, the current economic crisis Pakistan is facing, and deal made with the International Monetary Fund (IMF).
The Pakistan Muslim League Nawaz (PML-N) has also arranged a meeting on May 20 with the Former Prime Minister Shahid Khaqan Abbasi to discuss the party's future action plan. Maulana Fazal ur Rehman, leader of Jamiat Ulema e Islam (JUI-F), said, for the protest, a march is being planned by his party and that he'll shut down the Federal Capital.
To say, the county is already going in deficit and these kinds of protests are more likely to worsen the current situation. No one knows what is going on between the opposition parties and what will be their next step.
Want to add something? Comment below!