For at least a decade, we've been hearing that the feudal population of the country, due to their power and grip over local areas and people, have resorted to extortion as a source of livelihood far too long. We often end up slating the whole feudal system for a few people's actions, regardless of our incomplete knowledge on many incidents.
Extortion (Bhatta-Khori) which has been linked with the political circles of the country as well, does not always have to be political. Recently, a gang based on 7 girls has been exposed in Karachi, who might look like divas you'd want to have a cup of coffee with, but in return, you'd end up having paid more than just the bill.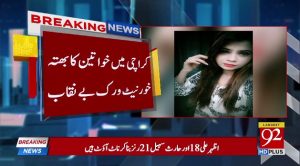 The very good looking girls are said to be involved in a gang of extortion, where they set good terms with businessmen and other well-off people and then blackmail them for money, resorting to tactics of extortion from poor people.
The gang is envisaged by a Karachi police officer who helps them wherever needed. Together, they create scenarios in which people are caught red-handed either committing foul acts with the women or they are filmed in private places. Later, they are blackmailed for money. These girls, who look like they come from exceptionally good backgrounds, are very well organized in their task.
لڑکوں سےبھتہ وصول کرنےوالےلڑکیوں کےگینگ کودھرلیا گیا
گینگ 7 لڑکیوں پرمشتمل،بھتہ خور گروہ کی سرپرستی کرنیوالےپولیس اہلکار بھی گرفتار
Watch More: https://t.co/iAL8h2xYeH#92NewsHDPlus #BreakingNews #Crime #Karachi #Bhatta #Mafia #Police #Pakistan pic.twitter.com/b15p9CbQPL

— 92 News HD Plus (@92newschannel) May 24, 2018
However, finally, the police officer who was helping them in their black deeds has finally been arrested along with two women from the gang. Further investigation in the case revealed that apart from the girls and the leading police officer, 4 other men including two policemen support the gang from outside as well.
This is not the first time something like this has stirred up in Karachi. Blackmailing gangs comprising of women have existed in the city and its peripherals for very long and have been exposed time and time again. The fact that people think it is easy to earn money in this country, by hook or by crook, is a myth.
These pretty girls, masquerading innocence under their demonic plans are prime of example of why people should avoid extra contact with everyone. People who have been bossed around by this gang of pretty faces would definitely vouch for the statement above.