Kashmir, the land that has been dueled over by two neighbors for 70 years, still sees Indian occupation and atrocities being committed in and around it. For years, Pakistan has been vocal about the Indian forces torturing Kashmiri youth for their right of self-determination.
Adding fuel to fire, the recent incident in Kashmir has sparked a fire, which is slowly taking all of India in its grip. The rape and murder of 8-year-old Asifa Bano from Indian Occupied Kashmir is making headlines all over the globe.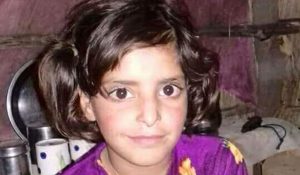 On 17th January, locals found an 8-year-old girl, raped and murdered. Her body was full of bruises, found in a forest.  "I knew something horrible had happened to my girl," Mr Pujwala, Asifa's 52-year-old father said. Pujwala belongs to a community of Muslim nomadic shepherds called Gujjars who graze their cattle in the Himalayas.
8-year-old Asifa had gone to the forest to collect her family horses. The horses came home, but sadly, Asifa did not make it back. When the family started searching for Asifa and contacted the local Indian police, so disgusting was their behavior, that they said she must have 'eloped' with a man and run away. The police said this about an 8-year-old girl.
The charge sheet of the incident proves that Asifa was abducted, taken to a local temple, given sedatives and gang-raped for days. The little girl was being used as a sex slave by the culprits in Kashmir. Sanji Ram, a 60-year-old retired government officer  planned the crime with the help of police officers Tilak Raj, Khajuria, Surender Verma and Anand Dutta.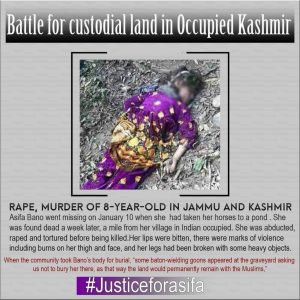 Many analysts believe that the Gujjars were mentally tormented with Asifa's rape because of land, they wanted to grab free land which the shepherds used, and this is how they paved their revenge out.
The world is reacting to Asifa Bano's rape in this manner!
India: DNA tests confirm 8-year-old #Asifa Bano was held captive in a Hindu temple, sedated and raped by multiple Hindu extremist men, who did so with the aim of terrorizing a Muslim community.#Asifa #AsifaBano #JusticeforAsifa pic.twitter.com/G8JYXHmJ9G

— Ananya Thakur (@AnanyaT53657600) April 11, 2018
The fact that we (everyday people) HAD to protest against the obstruction of justice in the case of Asifa Bano, the 8 year old child who was brutalised with rape and murder. Really tells a story about the rise of hate & the tragic loss of humanity in this part of the world. shame

— Moonis Ali (@moonisali) April 10, 2018
In India, so called Ministers and Lawyers defend rapist and murderer of 8 year old Muslim girl namely Asifa Bano.#JusticeforAsifa

— Basharat Akhoon (@AkhoonBasharat) April 10, 2018
Also, what is most galling is that there is not even a word of either sympathy or condemnation from the PM. This is a menacing regime full of trashy people. #AsifaBano

— Amit Manuviraj (@amitathome) April 12, 2018
Eight-year-old Asifa before & after the horrific crime.
If this doesn't shake the conscience of people nothing will. Justice should be delivered to her.#Asifa #AsifaBano #JusticeforAsifa pic.twitter.com/SIQm0SW0XG

— Vishnu Vinod (@vishnuvinod25v) April 12, 2018
This isn't about Hindus vs Muslims, this is about Humans vs Barbarians. This is about fucking justice. We're talking about an 8 year old girl, who is far far away from the concept of religion and rape. India has proven to be a shit country with a shit judiciary system #AsifaBano

— Nihaad Shaikh (@thenihadshaikh) April 12, 2018
Clothes and School Bag of Asifa Bano 8 year old Child who was Gang Raped and Murdered in Kathua Jammu & Kashmir pic.twitter.com/Ex5Xe3Itq8

— Kuldeep Singh (@Kuldeep26257786) April 12, 2018