Army Public School System, unfortunately renowned around the world for the extremely tragic incident that occurred on 16 December 2014, is in the news again. This time, a step taken by the school system's Malir Campus in Karachi, is being lauded for the initiative taken first time in Pakistan.
As exams soon approach the Army Public School Karachi, the school issued a letter to parents and students that has stunned both. APS, known for its strict faculty and rules, has done something extremely heartwarming for the students of the school. This is what the Parent Circular reads:
"1. The final exams of your child / ward have started. We know you and your children all are very anxious for your child to do well. 2. But please do remember, among the students who will be sitting for the exam, there is an artist who doesn't need to understand Math. There is an entrepreneur, who doesn't care about History or English Literature. There is a Psychologist whose chemistry marks won't matter. Every child has a unique quality in him / her.
3. There is an athlete whose physical fitness is more important than physics. If your child does get top marks, that's great! But if they don't, please don't take their self-confidence and dignity away from them. Tell them it's ok, it's just an exam. They are cut for much bigger things in life.
Another point read about loving them unconditionally and not for just how students perform in exams. The school also wanted parents to notice other qualities of their children and work on them, which we are sure, brought tears to every parents' eyes. The school also talked about how parents need to talk to their children more often and groom them into hardworking individuals.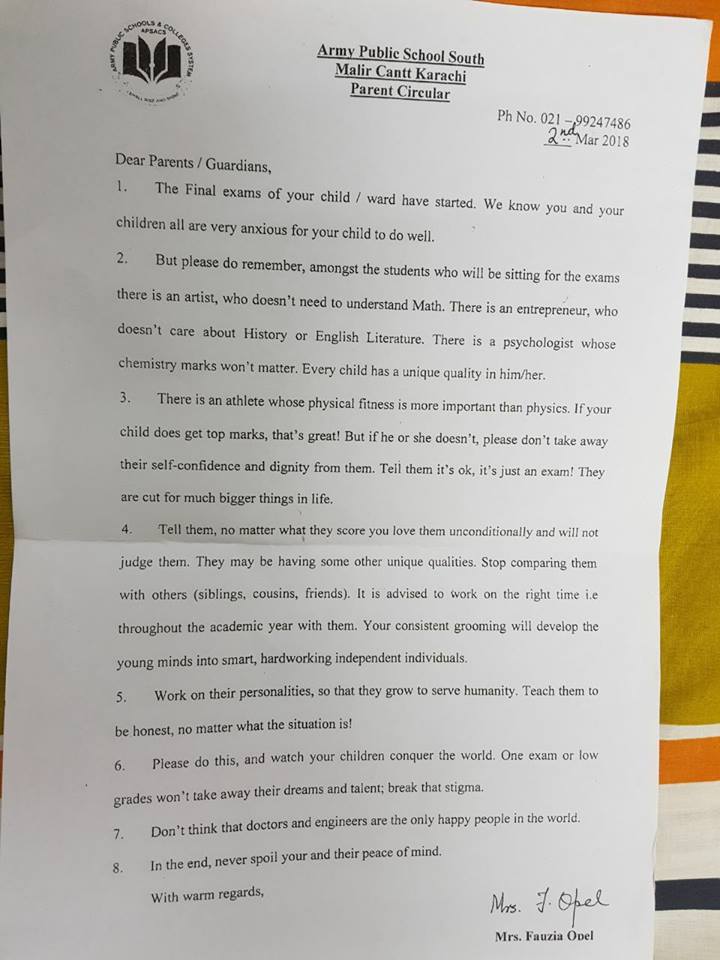 The circular talked about how parents need to play a vital part in grooming of their children's personalities, so they can grow and serve humanity. Emphasis was laid down how grades and results would not matter, but how parents treat their children after their result comes will.
The school further stated that if their advice is followed, their children will become hardworking and will one day conquer the world. The point that parents loved the most was how doctors and engineers aren't the only happy people in the world, that happiness actually comes from becoming good people.
Alas, the school warned parents to never spoil their and their children's peace, as it is the most important thing for a growing individual. The letter was signed off by principal Mrs. Fauzia Opel, who has done a wonderful job with this initiative.