U-turn is a sudden change in the policy by the political official while trying to claim that both the positions are compatible with each other. This term is often used before elections to maximize the number of voters.
In Pakistan, this term is usually linked with cricketer-turned-prime minister Imran Khan who reversed his previous stand, gave another logic, convinced his followers and impressed them! The ministers of Pakistan People's Party (PPP) and Pakistan Muslim League-N (PML-N) always made fun of Imran Khan and his u-turns. PPP MNA Nafeesa Shah criticized Imran Khan and suggested him to create a ministry of the U-turn.
Imran Khan gave haters a befitting reply for mocking him and his u-turns. In a message posted on his official Twitter account, Prime Minister Pakistan Imran Khan said that doing a u-turn is 'hallmark of great leadership'. "The leader who does not do timely U-turns is not a real leader", said Imran Khan.
Check out Imran Khan's tweet!
Doing a U-turn to reach one's objective is the hallmark of great leadership just as lying to save ill-gotten wealth is the hallmark of crooks.

— Imran Khan (@ImranKhanPTI) November 18, 2018
A group of journalists were taking his interview in Prime Minister Office and during the interview, he talked about how important the flexibility is in the leaders. Imran Khan gave them the example of German military leader Adolf Hitler and French military leader Napolean Bonaparte who took the right decision at the right time. "Both Hitler and Napoleon faced defeat as they did not change their strategies according to the situation and as a result, their armies were marooned in Russia. Leaders should always be ready to take U-turns according to the requirement of their duties and best interests of the nation", said Imran Khan to the journalists.
On Thursday when Prime Minister Imran Khan announced to release Indian Airforce pilot Abhinandan Varthaman as a gesture of peace, Twitteratis want him to take another U-turn and put the pilot back into Pakistan's custody!
While Everyone Is Lauding PM's Decision Of Releasing IAF Pilot, Indian Media Is Still Considering The Peace Gesture As Result Of 'International Political Pressure'
Our All-Time Favorite News Anchor Rabia Anam Said It All!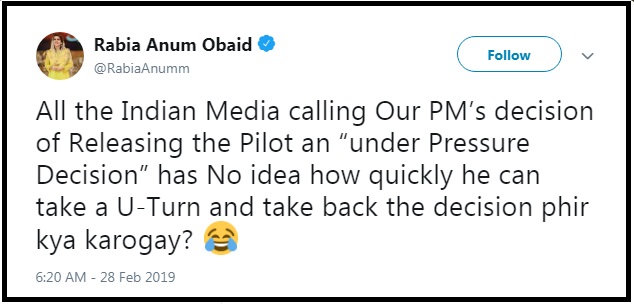 Please, Imran Khan!
Pakistanis Are SAVAGE!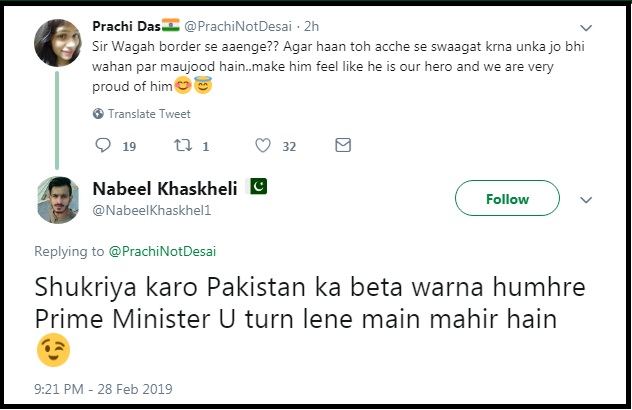 Ye Nae Sudharne Wale!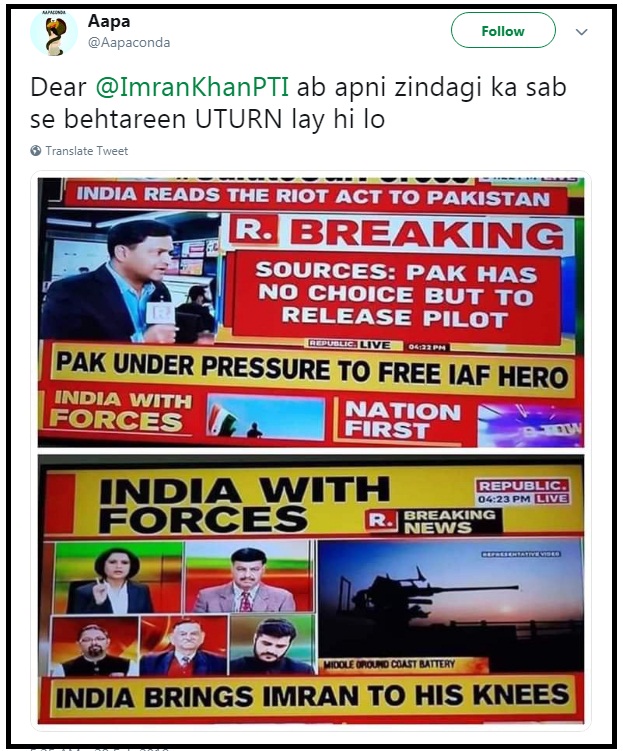 Even Zaid Hamid Is Suggesting Imran Khan To Take A U-Turn!
زید حامد صاحب کا وزیراعظم عمران خان کو پیغام pic.twitter.com/ZRrz1Fv7Kv

— 💖k💖h💖a💖n💖G💖 (@Abid34408595) February 28, 2019
Imran Khan gave a brief speech in National Assembly yesterday. During the speech, he announced that Pakistan will release IAF pilot on Friday as 'gesture of peace'. 'As a first step to open negotiations, Pakistan will be releasing the Indian Air Force officer in our custody", said Imran Khan.
He also stated that he called Indian Prime Minister Narendra Modi on the phone because escalation is not the solution. "Pakistan desires peace. Pakistan intends to work for poverty alleviation, investment, and job creation. We do not intend war. War is not a solution. Escalation is not the answer. If India escalates, then so shall we. This shall not bring forth any plausible solution to our issues," said Imran Khan during his speech in National Assembly.
It is high time for Indian media to act responsibly and report the true facts instead of exaggerating them. They should keep in mind that in these circumstances, a single mistake can ruin everything.
So, are you in a favor of his U-turn or not? Share your thoughts with us in the comments!